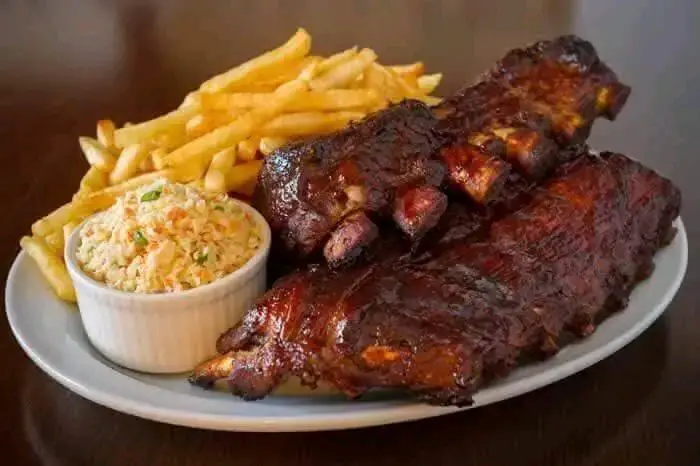 Pork ribs with tamarind
Pork ribs with tamarind is a delectable dish that combines the rich, savory flavors of pork with the tangy and slightly sweet notes of tamarind. The ribs are typically marinated in a mixture of tamarind paste, garlic, ginger, and various spices, allowing the meat to absorb the complex flavors.
Ingredients
Mark all
1 tablespoon vegetable oil
2 pounds pork ribs, cut into individual ribs
1 medium white onion, chopped
2 cloves garlic, minced
2 cups of water
1/4 cup tamarind paste (concentrate)
4 to 5 tablespoons of brown sugar or grated piloncillo
2 tablespoons wine vinegar
2 tablespoons of MAGGI Granulated Rib Flavor Broth
1 tablespoon all-purpose flour dissolved in 1/4 cup dry rosé wine
Hot cooked rice
Instructions
HEAT oil in a large skillet over medium-high heat. Add the pork ribs and cook on both sides until golden brown. Remove from the pan and set aside.
ADD onion to same skillet and cook, stirring occasionally, for 3 to 4 minutes or until tender. Add garlic and cook for 30 seconds.
Add the water, tamarind paste, sugar, vinegar and broth. Return the ribs to the pan with the sauce and bring to a boil. Reduce heat to medium-low, cover pan.
COOK ribs for 1 hour or until tender. Remove the ribs to a platter and keep warm. Meanwhile, boil the sauce until it is reduced by half, removing as much fat as possible.
Add the flour and wine mixture, stirring constantly until the sauce is thick. Pour this sauce over the ribs and serve with hot cooked rice.