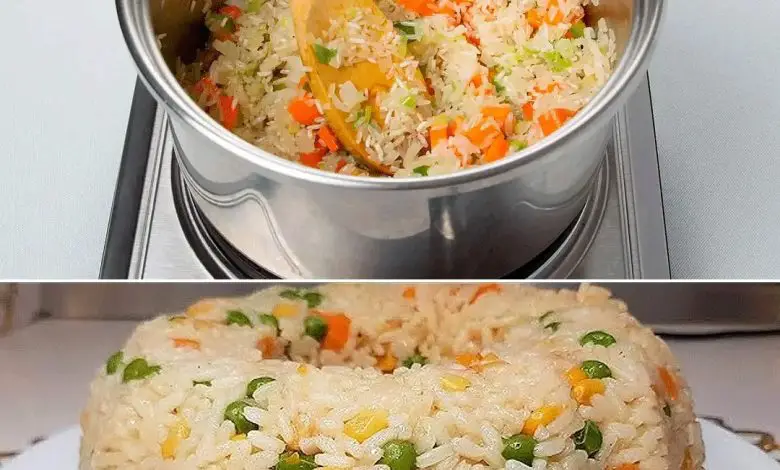 Rice with vegetables
Rice with vegetables is one of those classic and delicious recipes that anyone can prepare at home, it's so easy! You don't need rare, extravagant or hard-to-find ingredients, anything you have in the fridge will do.
Ingredients:
• 1 1/2 cups of rice
• 3 cups of vegetable broth you can use water too
• 1/2 medium sized onion
• 1/2 carrot
• 2 cloves of garlic
• ¼ pepper
• ½ cup green peas
• Salt to taste
• Pepper to taste
• Olive oil
This white rice with vegetables is an excellent side dish for meats and vegetables. It is a light and healthy dish that is prepared in just a few minutes.
Preparation:
1. Chop all the vegetables into small cubes. Chop the garlic very, very small.
2. Heat a deep frying pan or paella pan and sauté the vegetables in this order: garlic, onion, carrot, paprika. Add a teaspoon of salt and a pinch of pepper.
3. Let everything sauté for a couple of minutes and release a little juice.
4. Add the cup and a half of rice, mix well and add the green peas and 3 cups of water.
5. Stir a little and allow it to boil.
6. When the water begins to dry and only bubbles remain on the rice grains, lower the heat to low and cover your pan.
7. Let it cook for about 10-15 minutes.
8. Check that the grain is ready, and if it is, remove from the heat, let it rest for a couple of minutes and serve your delicious rice with vegetables.
Rice with peas recipe is a perfect dish for all seasons as it is an easy meal to prepare and does not take much time.