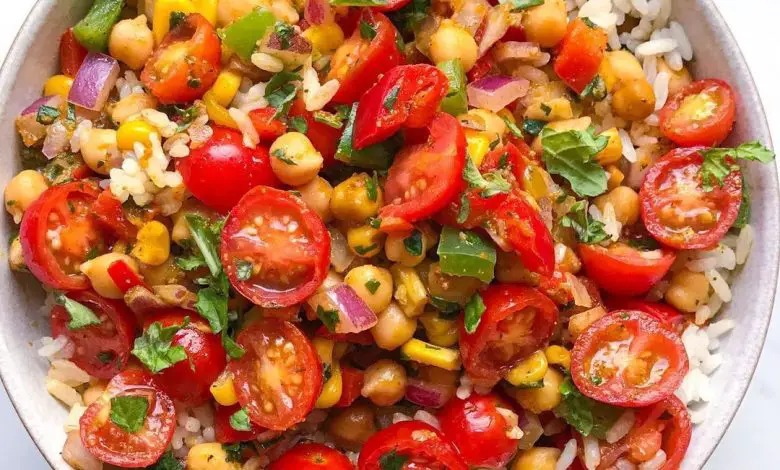 FIESTA RICE SALAD
Fiesta Rice Salad is a vibrant and delicious dish that's perfect for gatherings and picnics. This colorful salad typically combines cooked rice with an array of fresh ingredients such as bell peppers, black beans, corn, tomatoes, and cilantro. The dressing is often zesty and may include lime juice, olive oil, and various seasonings.
Ingredients
3-4 tablespoons extra virgin olive oil
2 cups of any rice of your choice
4 cups of water or (any broth makes it more flavorful! )
1 small onion, finely chopped
2 shallots, finely chopped
4 cloves of garlic, finely minced
sea salt to taste
2 cups of halved cherry tomatoes
one can of small organic chickpeas OR black beans
a handful of chopped organic cilantro
1 cup of finely chopped red or green bell peppers
2 cups of roasted corn (or organic corn) I season mine with paprika, chili powder, cumin, a pinch of Tabasco and garlic powder. About 1/4 tsp each!
Instructions
In a large saucepan with a lid, heat the extra virgin olive oil & add the shallots and onions. Stir until softened/translucent then add the garlic. Finally, stir in the rice until well coated/mixed with the oil and onions.
Add the broth and stir, once it boils: reduce heat to a simmer and cover the saucepan with a lid. Simmer for ~ 20 mins. Turn off the heat and leave covered for at least another 10 mins so it can fluff up.
In a separate bowl: mix in all the vegetables. Before serving, top over the rice and mix in. OR: add the vegetables to the rice before you add the broth and have them cook with the rice if you prefer everything warm/sautéed.
Tip: I add a pinch of pickled Spanish red onions to the fresh salsa rice topper for a little kick. I pickle them with white wine vinegar or ACV and sea salt. I like to use jasmine, brown or basmati for mine- I love the smell and taste!