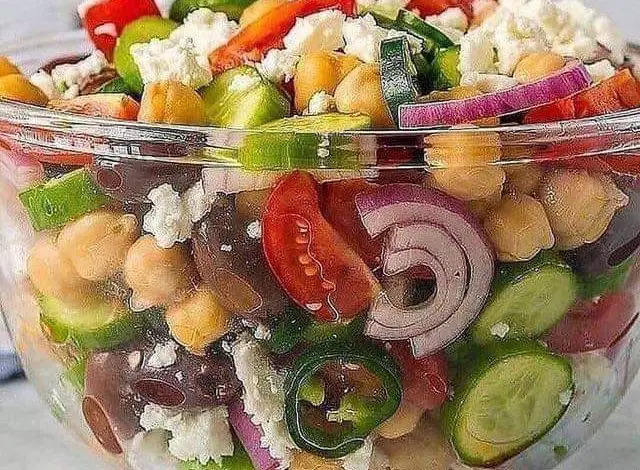 Greek Chickpea Chopped Salad
Greek Chickpea Chopped Salad is a vibrant and nutritious dish that combines the flavors of Mediterranean cuisine. This salad features a base of crisp romaine lettuce, diced cucumbers, juicy tomatoes, red onions, and Kalamata olives. The star ingredient, chickpeas, adds protein and a hearty texture to the salad.
INGREDIENTS

15 oz chickpeas, rinsed and drained
1/2 small red onion, sliced thin
2 cups cherry tomatoes, halved
1/3 cup pitted Kalamata olives
2 small English cucumbers, sliced
1/3 cup feta cheese, crumbled (I added a chopped jalapeno today for a little kick – totally optional!) .
Dressing ingredients:
2 Tbsps extra virgin olive oil
2 Tbsp balsamic vinegar, or apple cider vinegar for the extra health benefits
1 Tbsp raw honey
2 small garlic cloves, minced
1 tsp dried oregano
freshly ground sea salt and pepper, to taste
INSTRUCTIONS
1. Place all chopped salad ingredients nicely into a large bowl.
2. In a small glass bowl, whisk together dressing ingredients.
3. Add dressing to the salad bowl and toss gently to combine.
4. This salad is great for meal prep as it stores perfectly in fridge for up to 3 days.
5. Make sure you only mix it with the dressing right before serving if using for future meals.