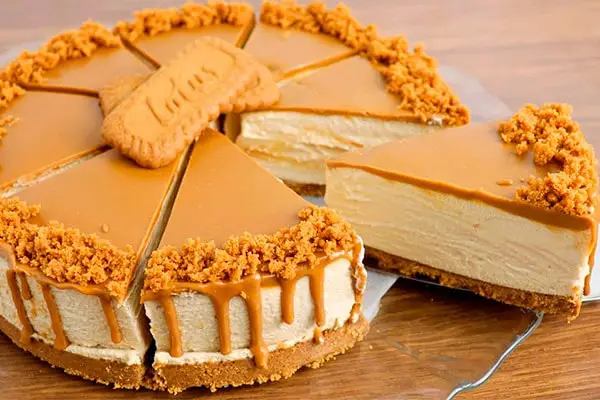 Lotus Cookie Cheesecake
Lotus Cookie Cheesecake is a delicious twist on this classic dessert that incorporates the irresistible texture and flavor of Lotus Cookies. The crunchy Lotus cookie crumb base perfectly complements the softness and creaminess of the cheese filling, creating a unique combination that captivates sweet lovers around the world.
Ingredients
For the base:
• 200 g of Lotus biscuits (Also known as Biscoff)
• 80 g of melted butter
For the filling:
• 500 g of cream cheese
• 200 g sour cream or sour cream
• 150 g of sugar
• 3 eggs
• 1 teaspoon vanilla extract
• 1 pinch of salt
• 1 cup Lotus cookie crumbs (optional, to mix into the filling)
Make sure you have all the ingredients fresh and at room temperature.  Prepare the mold with the cookie base and keep all the utensils ready for a smooth preparation.
Instructions
Base preparation:
1. Crush the Lotus cookies into fine crumbs. You can do this by using a blender or by placing the cookies in a bag and crushing them with a rolling pin.
2. In a bowl, mix the crushed cookie crumbs with the melted butter until you have a moist, sandy mixture.
3. Press the cookie mixture into the bottom of a springform cake pan, making sure to create an even, compact layer. Then, place the mold in the refrigerator so the base can cool while you prepare the filling.
Preparation of the filling:
1. Preheat the oven to 160°C (320°F).
2. In a large bowl, beat cream cheese until smooth and creamy.
3. Add the sugar and continue beating until well combined.
4. Add the sour cream (or sour cream), vanilla extract and a pinch of salt. Mix until all ingredients are completely combined.
5. Add the eggs one at a time, beating well after each addition. This will help make the filling smooth and uniform.
6. If you wish, you can add the Lotus cookie crumbs to the filling mixture and mix gently.
Assembly and baking:
1. Pour the filling mixture over the cookie base in the mold.
2. Smooth the top with a spatula to make sure the surface is even.
3. Bake in the preheated oven for about 45-50 minutes, or until the edges are set and the center is still a little jiggly.
4. Once baked, turn off the oven and leave the cheesecake inside with the door ajar for about 30 minutes. This will help prevent cracks on the surface of the cheesecake due to the abrupt change in temperature.
5. Remove the cheesecake from the oven and let it cool to room temperature before refrigerating. Once cooled, refrigerate for at least 4 hours or ideally overnight before unmolding.
6. Before serving, you can decorate the top with some additional Lotus cookie crumbs, if desired.
Enjoy your delicious Lotus cookie cheesecake! Remember that this is a basic recipe, and you can customize it to your preferences by adding ingredients such as caramel sauce, melted chocolate, or dried fruit. Enjoy!