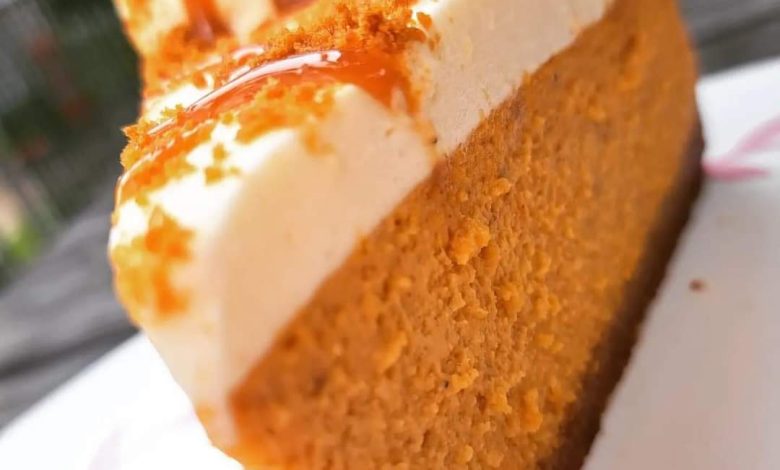 Caramel Pumpkin Spice Cheesecake
Caramel Pumpkin Spice Cheesecake is a delightful autumn dessert that combines the rich flavors of caramel, pumpkin, and warm spices in a creamy cheesecake. This indulgent treat typically features a graham cracker crust that provides a sweet and crunchy base.
Ingredients
For the base:
– 1 and ½ cups crushed graham crackers
– ¼ cup melted butter
– ¼ cup sugar
For the filling:
– 3 packages (24 oz total) cream cheese, at room temperature
– 1 cup of sugar
– 1 cup of pumpkin puree
– ¾ teaspoon pumpkin spice
– ¼ teaspoon cinnamon powder
– ¼ teaspoon salt
– 1 teaspoon vanilla extract
– 4 large eggs
For the Caramel:
– 1 cup of sugar
– 6 tablespoons unsalted butter
– ½ cup of milk cream
🔸Instructions🔸
Prepare the Base:
1. **Preheat** the oven to 325°F (163°C).
2. Mix together the graham crackers, melted butter and sugar.
3. Press the mixture into the bottom of a 9-inch cheesecake pan.
4. **Bake** for 10 minutes and then let cool while you prepare the filling.
Prepare the Filling:
1. Mix cream cheese and sugar until smooth.
2. Add the pumpkin puree, pumpkin spice, cinnamon, salt and vanilla.
3. Add the eggs, one at a time, mixing well after each addition.
4. Pour the filling over the prepared base.
5. Bake for 1 hour or until center is almost set.
6. Turn off the oven and leave the cheesecake in for 1 more hour.
7. Refrigerate for at least 4 hours, or preferably overnight.
Prepare the Candy:
1. Heat the sugar in a skillet over medium-high heat, stirring constantly, until it melts and turns an amber color.
2. Add the butter and mix until melted and well combined.
3. Remove from the heat and slowly add the heavy cream, mixing well.
4. Let cool to room temperature.
Finish:
1. Once the cheesecake and caramel are cool, pour the caramel over the cheesecake.
2. Refrigerate for at least 30 minutes before serving to allow the caramel to set a bit.
Enjoy your delicious Caramel Pumpkin Spice Cheesecake! I hope you like it!