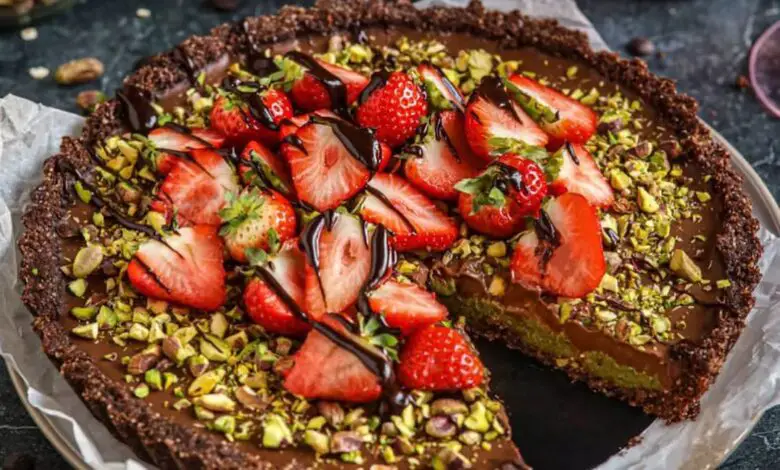 Ingredients:
➡️For the crust:
1 cup hazelnuts
1 cup almonds
1/4 cup cocoa powder
3 tbsp maple syrup
➡️Pistachio layer:
1 cup pistachios
3 tbsp maple syrup
2 tbsp almond milk
➡️chocolate layer:
1 can coconut milk
4.2 oz dark chocolate
4 tbsp maple syrup
A pinch of salt
Recipe:
1️⃣Mix all the ingredients for the crust in a food processor until it sticks together. Press the dough mixture into the bottom of the cake tin, using a spatula to pack it down and smooth out the top.
2️⃣ Clean the food processor and add all the ingredients for the pistachio layer. Mix until it's thick and creamy. Add an even layer of the pistachio butter on top of the tart base and place the tart in the fridge while you prepare the chocolate layer.
3️⃣ Add the coconut milk, vanilla extract, maple syrup, cacao powder, and salt to a saucepan and heat up to a simmer. Remove from the heat and add in the chocolate, stirring until completely melted and incorporated into the mixture.
4️⃣ Pour the chocolate mixture into the tart base and allow it to cool for 10 minutes before placing the tart back in the fridge. Allow the tart to chill and set for approx 4 hours before serving. Garnish with pistachios, strawberries and melted dark chocolate.