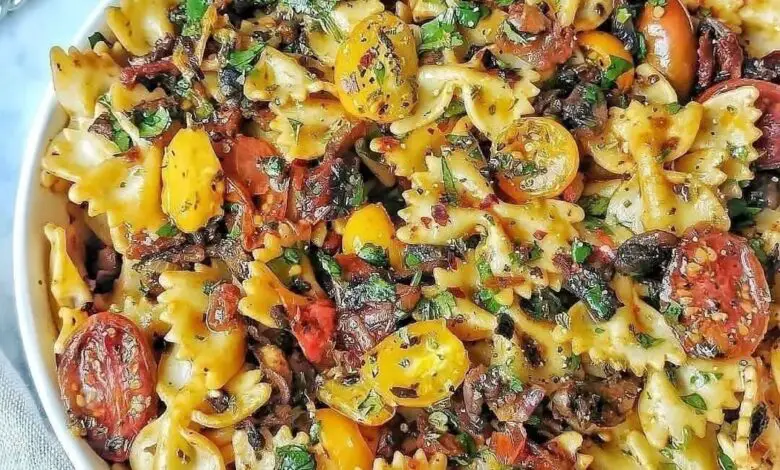 Ingredients
1 pint cherry or grape tomatoes sliced
1 tbsp olive oil
Salt, pepper and dried oregano8 oz. mushrooms finely chopped
1 tbsp oil
1 shallot finely chopped
1/2 cup sun dried tomatoes finely chopped (jarred, drain excess oil)
1 tsp kosher salt
1/2 tsp pepper
1 tsp garlic powder
2 tsp dried oregano
1 cup pasta cooking water
1 tbsp tomato paste
1/3 cup (packed) finely chopped herbs (parsley and basil)
Juice of 1/2 lemon
Method
1. Preheat oven to 400 degrees F. Slice tomatoes and add to baking dish. Drizzle 1 tbsp olive oil, toss. Sprinkle generously salt, pepper and dried oregano. Toss. Bake approx 20 min until tomatoes start to release juices.
2. Meanwhile, boil water for pasta. Salt the water and cook pasta until just al dente. Reserve 1 cup pasta cooking water prior to draining.
3. In a skillet, add the chopped mushrooms and oil. Cook approx 10 minutes until mushrooms are browned, then add shallots. Cook another 5 min, stir often.
4. Add sun dried tomatoes, all the seasonings, and tomato paste. Stir, cook another minute. Add pasta cooking water, stir, add pasta and herbs.
5. Stir well and squeeze in lemon juice, add the roasted tomatoes and serve.
​