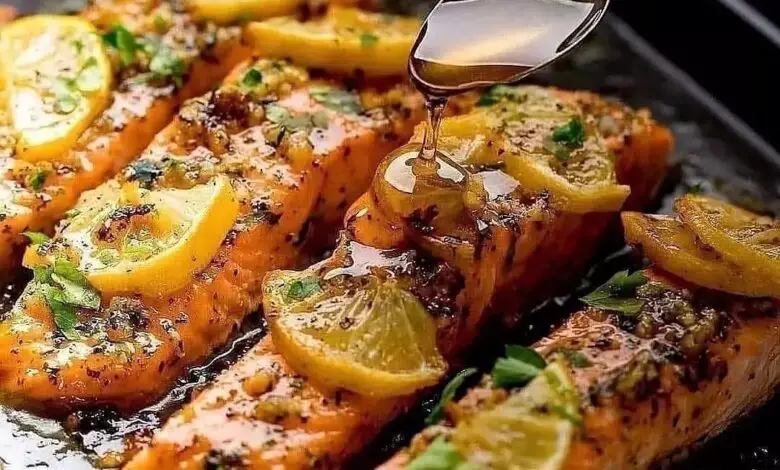 This is the easiest and best-baked salmon recipe in the world! ⁠Stir a few simple ingredients together, pour over salmon fillets and bung it in the oven for 12-15 minutes. Done.
Ingredients
* 4 boneless salmon fillets
* 2 tbsp unsalted butter melted
* 2 cloves minced garlic
* 2 tbsp honey
* 1/2 tsp dried parsley (or 2 tsp fresh parsley, finely chopped)
* 1/4 tsp salt
* 1/4 tsp pepper
* pinch of paprika
* 1 lemon sliced into half-moons
Instructions
* Preheat the oven to 200C/400F. Line a baking tray with foil or a silicon mat.
* Place the salmon fillets, skin-side-down on the baking tray.
* In a small bowl, mix together the melted butter, garlic, honey, parsley, salt, pepper and paprika.
* Pour the mixture over the salmon fillets (don't worry about any of the sauce pooling on the tray).
* Arrange the lemon wedges on and around the salmon.
* Place in the oven and bake for 8 minutes.
* Open the oven and baste the salmon with any of the sauce that has pooled on the tray. Bake for a further 4-7 minutes until the salmon is tender.