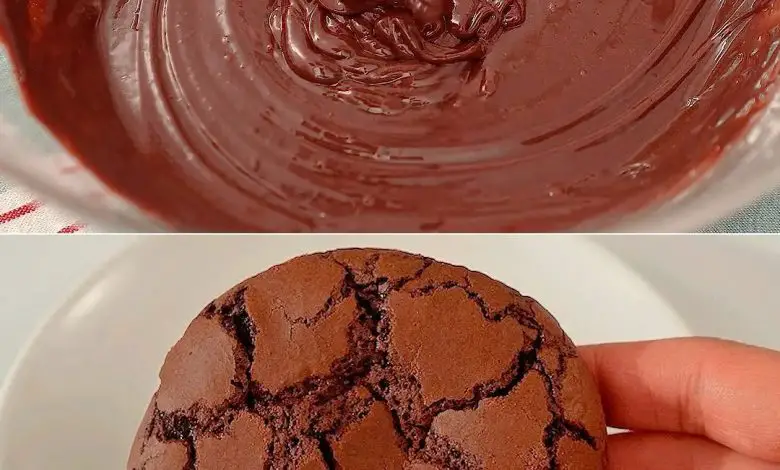 Brownie Cookies
Brownie cookies fuse the soft texture of a brownie with the shape and convenience of a cookie. They combine rich chocolate flavor with a crunchy surface on the outside and a soft center on the inside, creating a delicious experience that combines the best of both worlds. They are an irresistible indulgence for chocolate lovers.
Ingredients:
• 115 g semisweet chocolate (you can use dark chocolate too)
• 2 butter spoons
• 1/3 cup granulated sugar
• 1 egg
• 1/2 teaspoon vanilla extract
• 1/2 cup of wheat flour
• 1 tablespoon cocoa powder
• 1/4 teaspoon baking soda
• 1/4 teaspoon salt
• 1/2 cup chocolate chips (optional)
• Chopped walnuts (optional)
Before making brownie cookies, make sure you have all the ingredients ready and follow the recipe exactly to achieve a delicious and consistent result.
Preparation:
1. Preheat the oven to 180°C (350°F) and line a baking sheet with parchment paper.
2. In a microwave-safe bowl or small saucepan over low heat, melt the semisweet chocolate and butter together. Stir until smooth. Let cool slightly.
3. Add the granulated sugar to the chocolate and butter mixture, and mix well.
4. Add the egg and vanilla extract to the mixture and stir until well incorporated.
5. In another bowl, sift together the flour, cocoa powder, baking soda and salt. Add these dry ingredients to the wet mixture and stir until you have a smooth dough.
6. If you wish, you can add chocolate chips and chopped nuts to the dough and mix gently.
7. Using an ice cream scoop or two spoons, place mounds of dough on the baking sheet, leaving enough space between each cookie.
8. Bake in the preheated oven for about 10-12 minutes, or until the cookies are firm on the edges but still a little soft in the center.
9. Once baked, remove the cookies from the oven and let them cool on the tray for a few minutes before transferring them to a wire rack to cool completely.
Ready! Now you have delicious brownie cookies to enjoy. You can store them in an airtight container to maintain their freshness. Enjoy your brownie cookies!