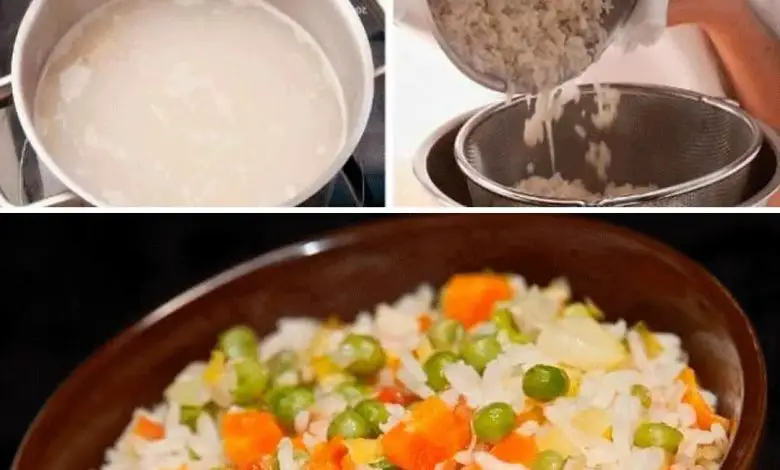 Mexican Style White Rice
Mexican-style white rice is the favorite dish to accompany any stew. You will find all the ingredients and secrets to make this simple rice so that it is loose and cooked to perfection.
Ingredients
The ingredients to make this dish are:
• 1 cup of rice.
• 1/2 onion.
• 2 cloves of garlic.
• 1/3 cup of water.
• 2 cups of hot chicken broth.
• 1/4 cup carrot (chopped into small cubes).
• 1/4 cup frozen peas.
• 1/4 cup frozen corn.
• 1 serrano chili.
• 2 tablespoons of oil.
• Salt to taste.
Steps
Step 1
For the rice to be fluffy and loose, it must be washed, strained and dried prior to preparation.
Step 2
To season the rice, blend the onion and garlic in a third of a cup of water and set aside.
Step 3
In a frying pan with the oil at high temperature, add the rice and stir so that it does not burn. Then, just before the rice begins to brown, the previous blending is added, the temperature is lowered and it is stirred until the water evaporates.
Step 4
Once the water has evaporated, add the chicken broth, salt, carrots, peas, and corn and stir gently. Once this is done, place the whole and pierced serrano chili in the center of the rice, wait for it to boil and cover it.
Step 5
After 15 minutes of cooking, check the rice to see if it has any water left, at this point it should already be dry. Turn off the heat, cover it and let it rest for 20 minutes so it can finish cooking with its own steam.
Step 6
Once cooking is finished, uncover it and let it cool completely so that each grain of rice is loose and whole.
This simple and quick recipe for Mexican-style white rice can have variations in terms of the vegetables and greens you want to use and the quantities. We invite you to try this recipe to accompany your meals at any time of the day and add particularities to your taste.