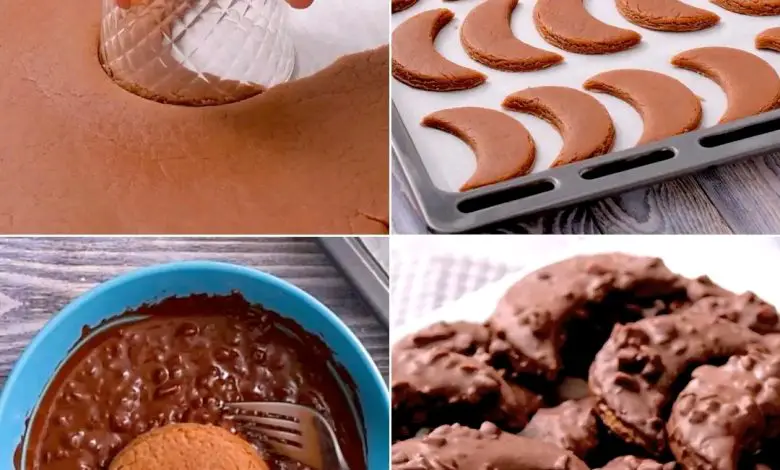 HALF MOON CHOCOLATE COOKIES 😋
Ingredients
125g soft butter
100g of sugar
60ml of oil
1 egg 450g all purpose flour
1 teaspoon vanilla
2g baking powder
1 tablespoon cornstarch
1 tablespoon cocoa
350g of melted chocolate 100g of crushed hazelnuts
Preparation:
Preheat oven to 180°C/350°F. In a small bowl, cream the butter and sugar.
Add the oil and egg and stir to combine.
Add the all-purpose flour, vanilla sugar, baking powder, cornstarch, and cocoa powder. Stir to combine.
Mix until a dough forms. Press dough lightly to flatten.
Place dough between parchment paper and flatten with a rolling pin.
Use the bottom of a glass (or cookie cutter) to press crescent shapes out of the rolled dough.
Use a butter knife to gently lift the crescent cookies off the parchment paper.
Place the crescent cookies on a parchment paper-lined baking sheet.
Bake for 15 minutes at 180°C/350°F.
Meanwhile, mix the melted chocolate with the crushed hazelnut kernels.
Use two forks to carefully dip each cookie into the melted chocolate mixture.
Arrange the chocolate crescent cookies on a wire rack place on top of a parchment lined baking sheet.