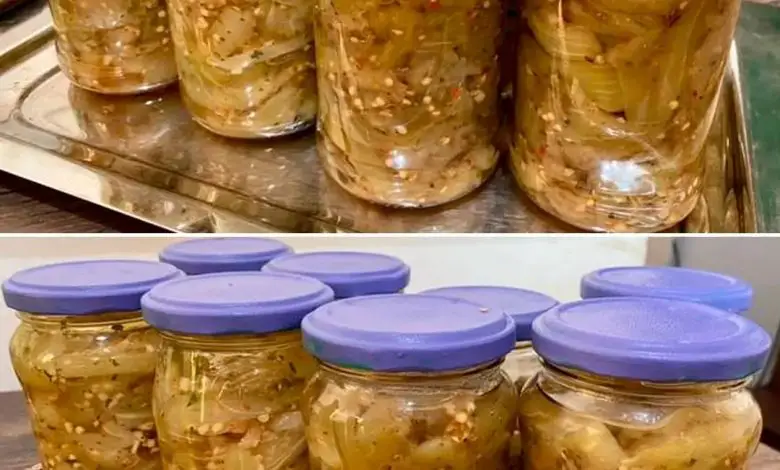 Pickled eggplants
Pickled eggplants are a delicious Mediterranean dish that combines young eggplants with vinegar, oil and spices. Their sweet and sour flavor and soft texture make them irresistible as an appetizer or accompaniment. This dish is a healthy and tasty option to enjoy eggplants.
Ingredients:
• 2 large eggplants
• 1 large onion, cut into julienne strips
• 2 cloves of garlic, finely chopped
• 1 carrot, cut into thin slices
• 1 red pepper, cut into strips
• 1 green pepper, cut into strips
• 1 cup white wine vinegar
• 1/2 cup olive oil
• 1/2 cup of water
• 1 bay leaf
• 1 teaspoon peppercorns
• 1 teaspoon salt
• 1 teaspoon of sugar
• 1/2 teaspoon cumin powder (optional)
To prepare pickled eggplants, cut the eggplants into thin slices and soak them in salted water for 30 minutes to remove the bitterness before marinating them in a mixture of vinegar, oil and spices.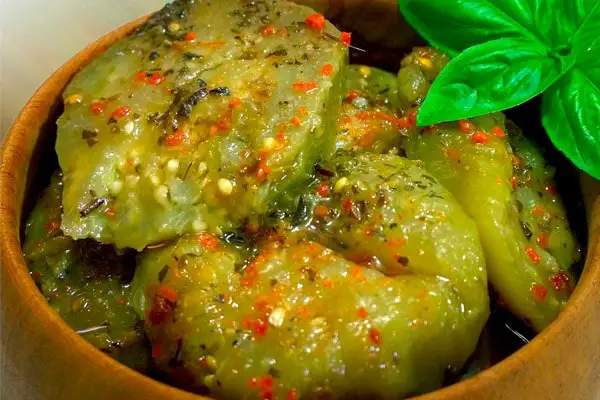 Preparation:
1. Wash the eggplants and cut them into thin slices. You can peel them if you prefer, although it is not necessary.
2. In a large pot, add the vinegar, water, salt, sugar, bay leaf, peppercorns, and cumin powder (if desired). Bring the mixture to a boil and cook over medium heat for about 5 minutes to make the pickle.
3. In a large skillet, heat the olive oil over medium heat. Add the eggplants and fry until golden brown on both sides. Next, remove the eggplants and place them on absorbent paper to remove excess oil.
4. In the same pan, add the onion, garlic, carrot and peppers. Cook over medium heat until the vegetables are tender and the onion is transparent.
5. Add the fried eggplants to the pan with the cooked vegetables and mix everything gently.
6. Pour the hot pickle mixture over the vegetables and eggplant in the pan. Mix everything well.
7. Let the preparation cool to room temperature.
8. Transfer the pickled eggplants to an airtight jar or several small sterilized jars. Make sure the vegetables are completely covered with the pickling liquid.
9. Close the jars tightly and store them in the refrigerator for at least 24 hours before consuming the pickled eggplants. This will allow the flavors to blend and develop.
Pickled eggplants are a delicious accompaniment to salads, roast meats or simply to enjoy as an appetizer. I hope you enjoy this recipe!