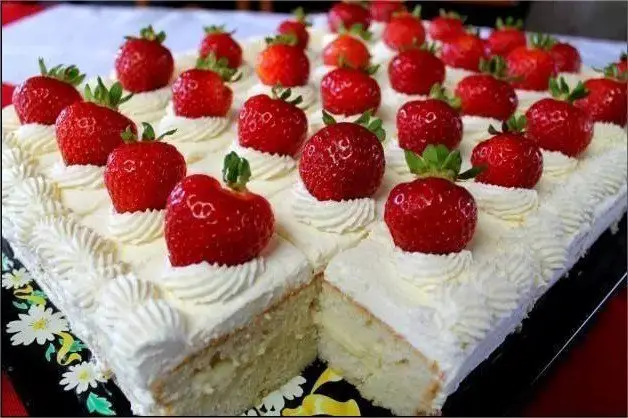 STRAWBERRY TART
Ingredients:
200 grams of flour
1 teaspoon of baking powder
8 egg yolks
6 egg whites
200 grams of sugar
1 teaspoon vanilla
50 grams of melted butter.
1 bottle (270g) strawberry jam
Meringue:
2 egg whites
¼ kilo strawberries, pureed
¼ kilo of sugar
Preparation:
Preheat the oven to 180° centigrade. Grease and flour a baking pan.
In a bowl, flour and baking powder together. book it.
Beat more than 6 egg whites to the point of nougat. Booking.
In another large bowl, beat together the sugar and egg segments. Add the flour with baking powder, vanilla, butter and the 6 beaten egg whites.
Pour it into the pan and bake for 30 to 40 minutes or until a toothpick inserted in the center of the bread comes out clean. Allow to cool for a few minutes in the pan, then dissolve and place on a wire rack to cool completely.
To prepare the frosting, beat the egg whites, strawberries and half the sugar together. When the mixture is hard, add the rest of the sugar little by little.
When the cake has cooled, cut it in half, on the side, and fill it with strawberry jam. Cover it with the bitumen.