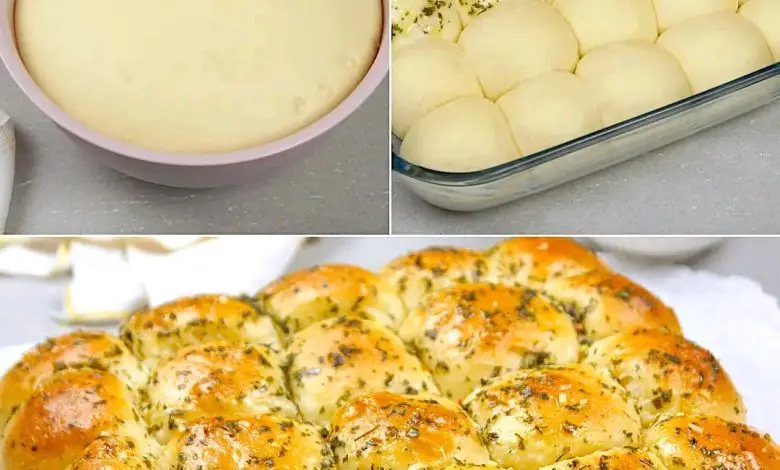 HOMEMADE GARLIC PANCIES
Homemade garlic pancakes are a delightful culinary creation that combines the comforting essence of pancakes with the aromatic allure of garlic. These savory pancakes are made by infusing pancake batter with minced garlic, giving them a fragrant and savory twist.
Ingredients:
400g plain flour
50g sugar
5g salt
7g dry yeast
250ml warm milk
1 large egg
55g butter
8g minced garlic
Garlic butter:
8g minced garlic
1g dried parsley
55g melted salted butter
Preparation:
1. In a bowl mix flour, sugar, salt and instant yeast.
2. Pour in the milk and add an egg.
3. Knead the dough with a mixer for 5 minutes. Cover with a kitchen towel and let rest for 20 minutes.
4. Add the softened butter and garlic and continue kneading until you get an elastic dough.
5. Transfer the dough to an oiled bowl, cover, and let rise in a warm place for 1 hour or until doubled in size.
6. Transfer the dough to a work surface, shape into a square, and divide into 25 pieces. Roll each piece into a ball, cover and let rest for 15 minutes.
7. Degas the dough ball a little more by tucking in the edges and arranging them on a greased baking sheet. Cover and let sit for 30 more minutes.
8. Meanwhile, prepare the garlic butter: In a bowl, combine the minced garlic, dried parsley and melted butter, mix well.
9. Brush the tops of the raised rolls with garlic butter and bake at preheated 180C/350F for 15-17 minutes.
10. While the rolls are still warm, brush a little more garlic butter on top and enjoy!