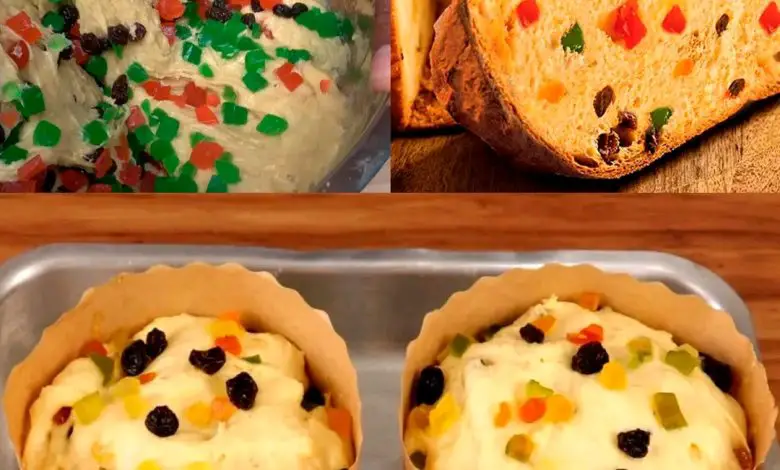 HOMEMADE PANETTON
Homemade panettone is a delightful Italian Christmas bread that is traditionally baked during the holiday season. This sweet, fluffy bread is studded with candied fruits and raisins, giving it a distinct festive flavor.
Ingredients
For the sourdough:
1/2 cup bread flour
1/4 cup warm water
1 tablespoon active dry yeast
1 teaspoon sugar
For the panettone dough:
4 cups bread flour
1/2 cup of sugar
1/2 teaspoon salt
3 eggs
1 egg yolk (to paint)
1/2 cup melted butter
1/2 cup warm milk
1 Teaspoon vanilla extract
1 teaspoon orange zest
1 teaspoon lemon zest
1/2 cup raisins and candied fruits (optional)
1/4 cup chopped walnuts (optional)
Preparation
1. Start by making the sourdough. Mix the bread flour, warm water, active dry yeast and sugar in a bowl. Cover with a damp cloth and let sit in a warm place for 15-20 minutes, or until the mixture is bubbly.
2. In a large bowl, mix the bread flour, sugar and salt.
3. In another bowl, beat the eggs and yolk. Add the melted butter, warm milk, vanilla essence and orange and lemon zest. Mix well.
4. Add the sourdough to the liquid mixture and mix well.
5. Pour the liquid mixture over the flour mixture and begin to knead until you obtain a soft and elastic dough. If you want to add raisins, candied fruits and nuts, add them at this point and knead until well distributed.
6. Form the dough into a ball and place it in a large bowl. Cover with a damp cloth and let rest in a warm place for 1-2 hours, or until the dough has doubled in size.
7. Preheat the oven to 180°C (350°F).
8. Turn the dough onto a floured surface and shape it into a panettone. You can use a special panettone mold or simply shape it into a round and place it in a cake pan.
9. Let the dough rest again for 30 minutes.
10. Paint the surface of the panettone with egg yolk to give it a golden color.
11. Bake in the preheated oven for 30-40 minutes, or until golden brown and sounds hollow when tapped on the bottom.
12. Let cool before cutting and serving. Enjoy your homemade panettone!