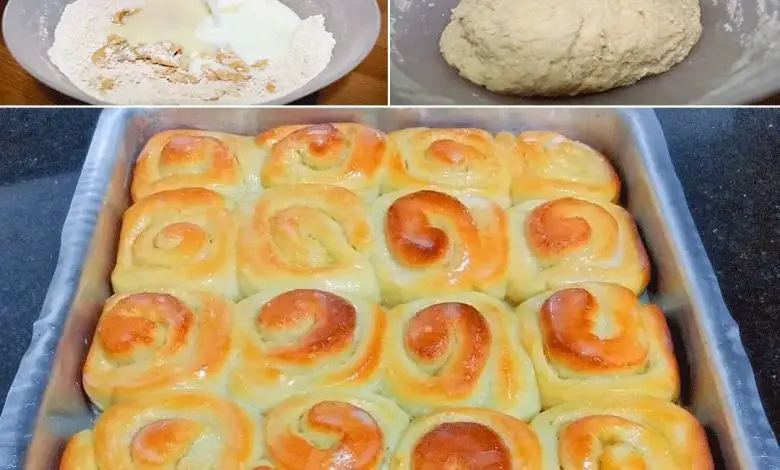 HUNGARIAN SLICE
Hungarian Slice is a delectable pastry known for its rich layers and sweet flavors. Originating from Hungary, this dessert typically consists of thin layers of dough separated by sweet fillings, such as apricot jam, nuts, or poppy seeds. The layers are baked to golden perfection, creating a crispy yet tender texture.
Ingredients
For the mass:
1 ½ tablespoons instant yeast
5 tablespoons of sugar
2 cups of hot milk (500 ml)
2 eggs
1 tablespoon diluted or melted butter or margarine
1/4 cup oil (50-60 ml)
1 kg of wheat flour
For the filling:
5 tablespoons margarine or butter
1 cup of sugar (200 gr.)
100 grams of grated coconut
For the syrup:
2 cups of milk (500 ml)
1 cup of sugar
Preparation
Mass:
1. Combine the dry ingredients (flour, yeast).
2. Combine the milk with the sugar, margarine, oil and lightly beaten eggs.
3. Form a volcano with the dough in a medium deep container and add the liquid to the center little by little.
4. As you add the liquid you knead, the dough will be ready when it no longer sticks to your fingers.
5. Let this dough rest in a container covered with plastic wrap or a damp cloth for 1 hour.
Stuffed:
1. Mix or combine (by hand or with an electric mixer) the sugar with the margarine and add the coconut.
Syrup:
1. Beat or mix the milk with the sugar and set aside.
Preparation of the slices:
1. On a flat, floured surface, spread the dough and form medium-thick rectangles (0.5 centimeters).
2. Cover this dough with the filling mixture, leaving about two centimeters along one side to seal the roll well.
3. Carefully roll and cut the slices approximately 3 centimeters thick.
4. Place them in the previously greased and floured baking container and flatten them gently with your hands.
5. Let them rest again for another hour.
6. Then bake them at 180-200°C for 15 minutes.
7. Take them out of the oven and varnish them with the syrup and put them in the oven again for 5 minutes or until you see that they are golden (light brown).
8. They are consumed hot or cold, they can be accompanied with coffee, chocolate or tea.