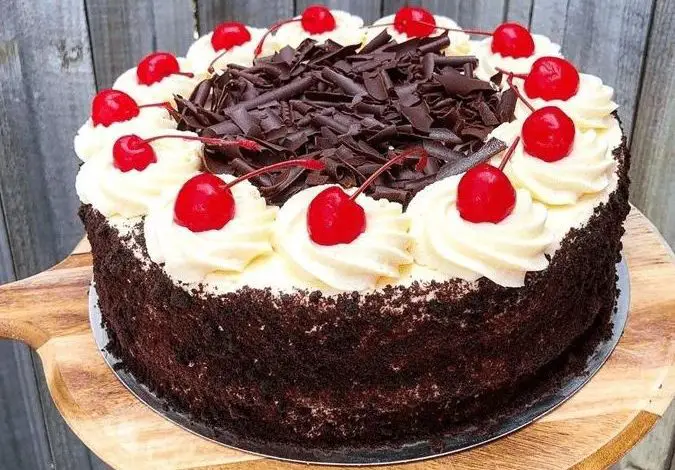 Black Forest Cake
Black Forest Cake is a decadent and classic dessert that originated in Germany. This indulgent treat typically consists of layers of rich chocolate sponge cake sandwiched with whipped cream and cherries. The cake is often soaked in cherry liqueur, adding a delightful boozy undertone to the layers.
INGREDIENTS
6 eggs
2 cups of sugar (tea)
1 cup (tea) chocolate powder
1 cup (tea) oil
3 cups (tea) of wheat flour
1 cup of hot water
1 tablespoon (full) of yeast
FILLING AND COVERING
•1 liter of whipped cream
•400 g of cherries in syrup
•Chocolate shavings to decorate (to taste)
METHOD OF PREPARATION
Beat the egg whites until stiff.
Add the egg yolks and sugar, beat well until the dough is homogeneous and whitish.
Add (one by one with the mixer running) the chocolate powder, oil, flour and water.
Lastly, add the yeast, mix it into the dough without beating, just mixing gently with a fork or even with one of the mixer beaters.
Bake it in a medium baking tray, greased and floured or, if you prefer, line it on all edges with baking paper, for 40 minutes.
Prepare the whipped cream and divide it into 2 parts, one for the filling and one for the topping (the topping part must be smaller than the part separated for the filling).
Chop the cherries (reserve five for decoration) and mix them into the part of the whipped cream reserved for the filling. Keep both parts in the refrigerator.
Once cold, cut the cake into 3 parts. Place one part on a serving plate.
Moisten each part with the cherry syrup.
After moistening the bottom, spread the whipped cream (filling). Assemble the cake parts.
Spread the whipped cream (topping) over the entire cake, decorate with chocolate shavings and whole cherries, or whatever your imagination dictates.