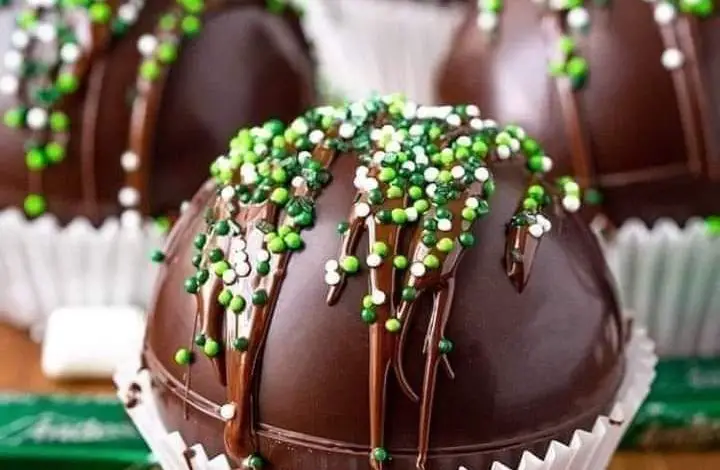 ▢ INGREDIENTS :
9 Perugina Dark Chocolate Baci
• Cakey Olive Oil Brownies :
– 1 cup sifted flour
– ¼ cup extra ṿïŕġïń Olive Oil
– 1 cup brown sugar
– 4 tbsp dark cocoa powder, unsweetened
– 1/4 tsp salt
– 3 eggs
– 1 tsp vanilla extract
Chocolate Olive Oil Mousse:
– ¾ cup heavy whipping cream
– 1 tbsp sugar
– ¼ cup extra ṿïŕġïń Olive Oil
– 2 large eggs, separated
– 3.50 oz Perugina Dark Chocolate 51%
⅛ tsp salt
• Ganache Topping:
– ¾ cup heavy whipping cream
– 7 oz Perugina Dark Chocolate 51%, coarsely chopped
▢ INSTRUCTIONS :
• Chocolate Mousse:
Place chocolate and olive oil over a double boiler, melt together over low heat.
Remove from heat and set aside after melted. It's ok if some separates slightly over the next several minutes as it cools.
Whisk the egg whítes and heavy cream together in a stand mixer fitted with the whisk attachment on medium-high speed until stiff peaks form.
Slowly whisk in the sugar until the mixture attains firm peaks.
Add the egg yolks, vanilla, and salt in a small bowl, mix well until combined.
Gently pour the egg yolk mixture into the chocolate mixture and mix well with a whisk until well-incorporated.
Gently fold the chocolate mixture into the whipped cream and egg whíte mixture until completely incorporated and you don't see any streaks remain.
Keep covered in plastic in the refrigerator for at least 2 hours until ready to use.
• Brownies :
Grease and line an 8×8-inch baking dish with a piece of parchment paper.
Preheat the oven to 325F.
Mix together the oil, cocoa, sugar, eggs, and vanilla in a medium bowl until well combined.
Add the flour and salt. At this point, merely stir lightly until there are no more whíte flour streaks visible.
Scrape the batter into the prepared pan.
Bake for 30 minutes then let cool to room temperature in the pan on a wire rack.
• Ganache Topping :
In a large heatproof bowl, add the chocolate. Set aside.
Heat the cream in a medium saucepan over medium-low heat until it starts to a simmer. Remove from the heat and immediately pour over the chocolate.
Gently whisk the mixture until gradually the chocolate will incorporate as it melts, then whisk a bit more vigorously until smooth.
Set aside to cool for about 15 minutes before using to top your βοmβes, so the ganache is still pourable but not too hot to melt them.
• To assemble :
Remove the Baci Perugina truffles from their packaging. Leave the others intact and coarsely chop one of them. Place them all to the side.
Cut your brownies into 4-inch circles by placing the 4-inch βοmβe bowl on top of the brownies and lightly pressing down to indent the top of the brownies, you'll be able to cut the perfect-sized circle. An 8×8-inch batch of brownies yields four circles.
Cut each of the brownie circles in half horizontally. You should now have 8 brownie circles.
Line 8 four-inch diameter βοmβe bowls with plastic wrap. Try to smooth as many wrinkles as possible.
Fill about ⅔ of the cup with 2 generous tablespoons of mousse.
Add a Baci truffle into the center of each mousse cup.
On top of the mousse and truffle in each cup, add a cake round. Press down to ensure that it is "sealed" with the mousse.
Using the plastic to wrap around each unit. Chill for 3 hours or overnight in the freezer to the mousse to be rock-hard, the βοmβes won't begin to melt when coat them with ganache at a later point.
Then remove from the freezer and invert and unmold the βοmβ, unwrapping it.
Pour ganache on top of the βοmβes with a spoon. If necessary, smooth the sides to achieve even coverage.
Using a few pieces of the chopped Baci truffle to decorate.
Store in the fridge until ready to serve.