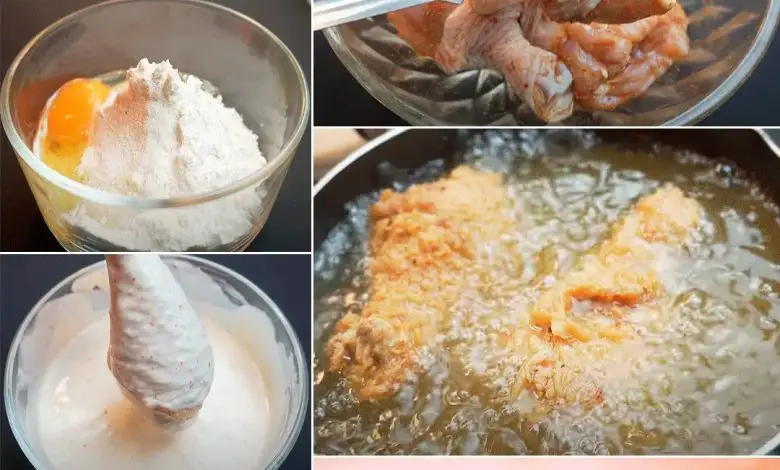 KFC style fried chicken
KFC-style fried chicken is recognized for its crispy and flavorful exterior, the result of a blend of secret herbs and spices. This famous Kentucky Fried Chicken recipe combines juiciness inside with an irresistible texture, making it a fast food icon worldwide. Its characteristic flavor and its preparation method have made it a gastronomic classic.
Ingredients:
• Chicken pieces (you can use thighs, wings, breasts, etc.)
• 2 cups of buttermilk
• 2 cups of wheat flour
• 1 tablespoon paprika (sweet paprika)
• 1 tablespoon garlic powder
• 1 tablespoon onion powder
• 1 teaspoon salt
• 1 teaspoon pepper
• 1 teaspoon thyme
• 1 teaspoon basil
• 1 teaspoon white pepper
• 1 teaspoon mustard powder
• Vegetable oil for frying
Before preparing KFC-style fried chicken, be sure to marinate the chicken pieces in a mixture of buttermilk and spices for at least an hour to achieve that characteristic crispy flavor when fried.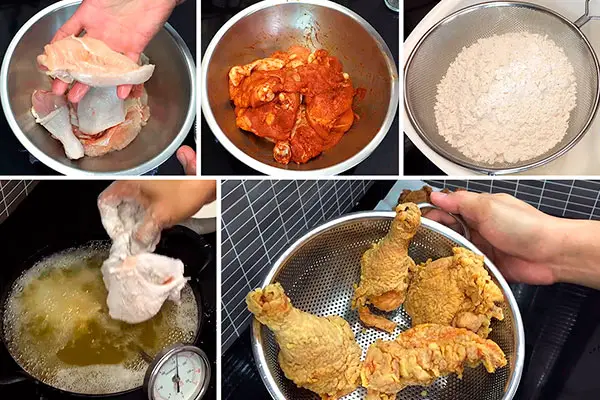 Preparation:
1. In a large bowl, mix the buttermilk with a pinch of salt and pepper. Dip the chicken pieces into the buttermilk mixture and make sure they are well coated. Marinate for at least 1 hour, or preferably overnight in the refrigerator.
2. In another large bowl, combine the wheat flour, paprika, garlic powder, onion powder, salt, pepper, thyme, basil, white pepper and mustard powder. Mix well to make sure the spices are evenly distributed in the flour.
3. Preheat the vegetable oil in a large frying pan or deep fryer to a temperature of approximately 170-180°C (340-360°F).
4. Remove the chicken pieces from the marinade and let the excess drip off. Then, dip each piece into the flour and spice mixture, making sure they are well coated. Press the flour onto the chicken so that it forms a thick layer.
5. Carefully place the floured chicken pieces into the hot oil. Do not overcrowd the pan to prevent the chicken from sticking to each other and to ensure even cooking.
6. Fry the chicken for about 15-20 minutes, turning occasionally, until golden brown and cooked through on the inside. Cooking time may vary depending on the size of the chicken pieces.
7. Once cooked, remove the fried chicken and place it on absorbent paper to remove excess oil.
8. Enjoy your homemade KFC-style fried chicken! You can accompany it with fries, rolls or salad.
Remember that this recipe is a homemade version inspired by the KFC style. The flavor may vary, but with these spices and techniques, you should have delicious fried chicken. Enjoy!