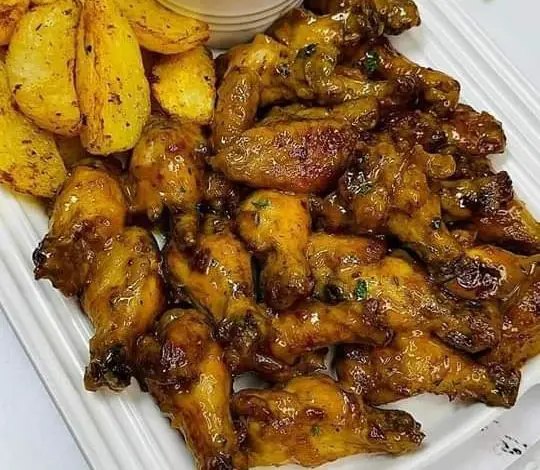 Chicken Wings
Chicken wings are a beloved finger food, often enjoyed at parties, sports events, or as a tasty snack. These small, flavorful morsels of poultry are typically deep-fried or baked to achieve a crispy exterior, and they come in various flavors and styles. Whether you prefer classic buffalo wings, tangy barbecue, or an exotic Asian twist, there's a chicken wing variety for everyone.
Ingredients:
16 Chicken wings
2 Tbsp Cornflour
1 Tbsp Seven Colours Grill Seasoning™
½ tsp chilli flakes
1 tsp Mixed herbs
1 tsp Paprika
1 tsp garlic salt
1 tsp black peppercorns
1 Tbsp Olive oil
For the Sauce/Glaze:
¼ cup hot sauce
¼ cup asian sticky bbq sauce
1 cup fresh cream
1 tsp dried thyme
Method:
Cut the wings into drumettes and flats, then pat them dry with paper towel. Stir together the cornflour, Seven Colours Grill Seasoning™, garlic salt, mixed herbs, paprika, black pepper corns, olive oil add the wings and coat them with the seasoning mixture.
Place the chicken wings in a single layer in an air fryer basket. Set the Air Fryer Grill & Multi Cooker to 180°C and cook for 15 to 20 minutes or until the wings are crisp and golden.
Meanwhile, stir all the sauce ingredients together. When the wings are done, coat them in the sauce and serve immediately.
Tip: Best served with a garden salad, potato wedges or fried chips.