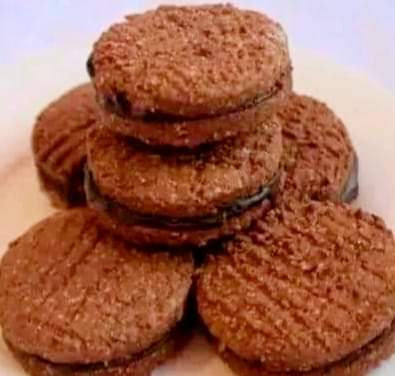 COCONUT CHOCOLATE BISCUIT
INGREDIENTS
• 2 cups flour (plain or cake)
• 1 cup unsalted butter (room temperature)
• 3/4 cup desiccated coconut
• 1 cup white sugar
• 3 Tbsp vegetable oil
• 1/3 cup cocoa powder
• 2 tsp vanilla essence
• 1 egg
• 1/2 tsp baking powder
• 1/4 tsp salt
DIRECTIONS
1. In a large bowl beat together the butter , sugar , egg ,vanilla and vegetable oil
2. Then add the dry ingredients (flour, cocoa powder, dedicated coconut, baking powder salt .
Mix until well combined . Use your hands to bring the dough together
3 .Roll the dough and use a fork to make patterns on the dough . wrap the dough with a cling wrap and let it chill in the refrigerator for at least 40 minutes.
4 .On a slightly floured surface roll the dough into your desired thickness.
5 .Use a round cookie cutter to cut out the dough. Place in a prepared baking tray.
6. Bake in a preheated oven for 10 to 12 minutes at 180°C.
Do not over bake them !!!
7. After cooling, melt some chocolate and sandwich the biscuits together
* If you are using salted butter don't add salt .