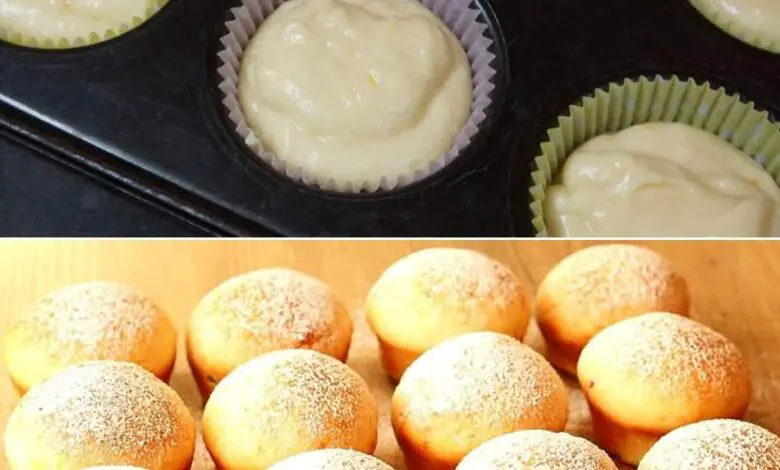 𝐈𝐍𝐆𝐑𝐄𝐃𝐈𝐄𝐍𝐓𝐒:
➡1 1/4 cups all-purpose flour
➡1 1/4 tsp baking powder
➡1/2 tsp salt
➡1/2 cup unsalted butter softened
➡3/4 cup sugar
➡2 large eggs room temperature
➡2 tsp pure vanilla extract
➡1/2 cup buttermilk
𝐈𝐍𝐒𝐓𝐑𝐔𝐂𝐓𝐈𝐎𝐍𝐒:
➡Preheat the oven to 350°F and line a cupcake/muffin pan with cupcake liners.
➡In a medium bowl, whisk together 1 1/4 cups flour, 1 1/4 tsp baking powder, and 1/2 tsp salt. Set flour mix aside.
➡In the bowl of an electric mixer, beat butter and sugar on medium-high speed 5 minutes until thick and fluffy, scraping down the bowl as needed.
➡Add eggs one at a time, beating well with each addition then scrape down the bowl. Add 2 tsp vanilla and beat to combine.
➡Reduce mixer speed to medium and add the flour mixture in thirds alternating with the buttermilk, mixing to incorporate with each addition.
➡Scrape down the bowl as needed and beat until just combined and smooth. Divide the batter evenly into a 12-count lined muffin or cupcake pan, filling 2/3 full.
➡Bake for 20-23 minutes at 350 °F, or until a toothpick inserted in the center comes out clean. Let them cool in the pan for 5 minutes, then transfer to a wire rack and cool to room temperature before frosting.