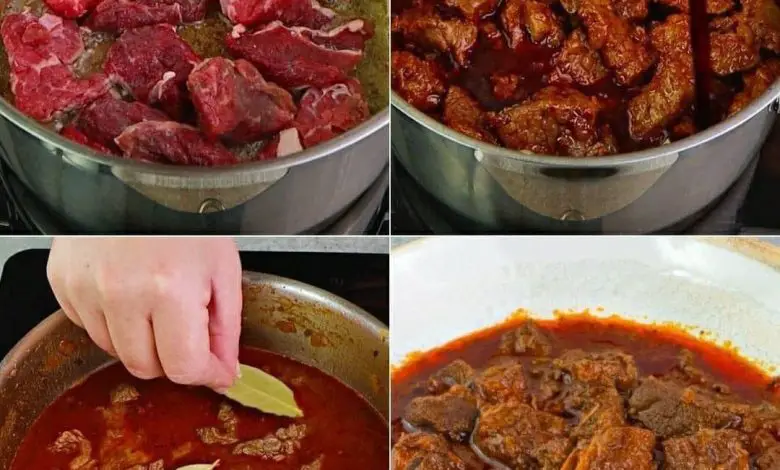 BEEF STEW
Beef stew is a hearty and comforting dish that's popular in many cuisines around the world. It typically consists of tender chunks of beef, vegetables like carrots, potatoes, and onions, all simmered in a flavorful broth or sauce. The meat is often browned before simmering to enhance its flavor, and various herbs and spices are added to create a rich and savory taste.
INGREDIENTS
700g onion
100g bacon
Oil
vegetable
1kg beef (cubes)
Salt
Pepper
Rosemary
Thyme
Cumin
1 tablespoon sweet paprika
2/3 tablespoon hot paprika
2 tablespoons tomato paste
300ml red wine
300ml of water
3 sheets
of laurel

METHOD
1. Peel and cut the onion into small pieces. Also, cut the bacon into small strips.
2. Pour the oil into the pot and add the bacon. Fry until the bacon begins to brown and then remove.
3. Add the beef cubes and fry them for a few minutes. Remove from the pot.
4. Add the prepared onion and fry until soft. Add the meat and add the salt, pepper, rosemary, thyme, cumin, sweet paprika, hot paprika and tomato paste and mix.
5. Pour in the red wine and water and mix well together. At the end add the bay leaves and mix.
6. Cover with the lid and cook for about 30 minutes or until the meat is soft and tender.
7. Remove the pot from the heat and serve.