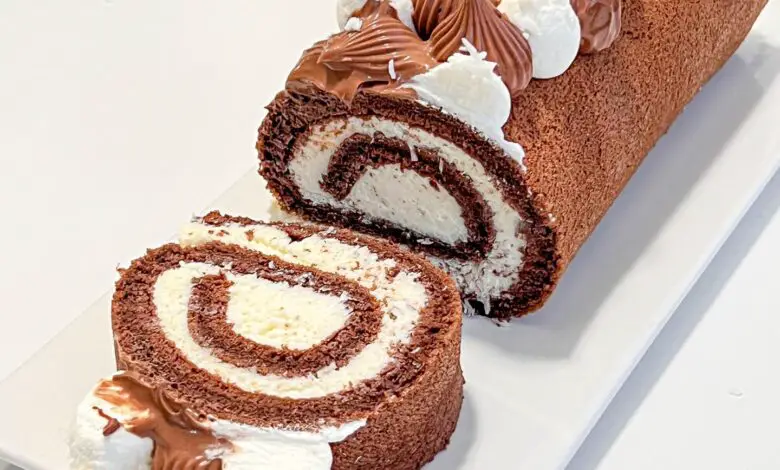 Ingredients
4 large eggs, at room temperature
3/4 cup (149g) granulated sugar
1/2 teaspoon salt
1 teaspoon King Arthur Pure Vanilla Extract
2/3 cup (82g) King Arthur Unbleached All-Purpose Flour
1/3 cup (28g) Dutch-process cocoa
1 teaspoon espresso powder, optional; for richer chocolate flavor
1 1/4 teaspoons baking powder
1/4 cup (50g) vegetable oil
6 tablespoons (85g) buttermilk, at room temperature
Filling
1 cup (227g) heavy cream
1 teaspoon King Arthur Pure Vanilla Extract
1 tablespoon (14g) granulated sugar
2 teaspoons Instant ClearJel
3/4 cup (84g) King Arthur Sweet Ground Chocolate or 1/2 cup (85g) dark chocolate, finely ground
Glaze
1/4 cup + 2 tablespoons (85g) heavy cream
1 1/2 tablespoons (29g) light corn syrup or dark corn syrup
3/4 cup (128g) semisweet chocolate wafers, or chopped semisweet chocolate from a block
Instructions
• Preheat the oven to 350°F. Line a 9 1/2″ x 14″ jelly roll pan with parchment paper and spray with non-stick vegetable oil spray.
• To make the cake: In a large bowl, beat the eggs until thick and pale, then beat in the sugar, salt, and extracts.
• Sift together the flour, cocoa, and baking powder, and fold gently into the egg mixture. Whisk together the oil and buttermilk and fold in, stirring just until combined.
• Spread the batter onto the pan and smooth with a spatula. Bake the cake for 10 to 12 minutes, until the top springs back when pressed gently.