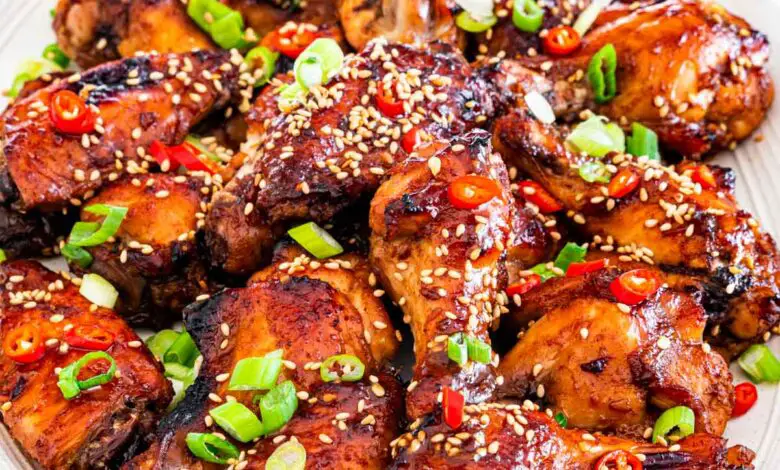 INGREDIENTS:
3 pounds chicken wings
2 tablespoons cornstarch
1 tablespoon sesame seeds
2 tablespoons chopped fresh cilantro leaves
FOR THE SAUCE
1/3 cup reduced sodium soy sauce
1/3 cup balsamic vinegar
1/3 cup brown sugar, packed
1/4 cup honey
3 cloves garlic, minced
1 teaspoon Sriracha, or more, to taste
1 teaspoon ginger powder
1 teaspoon ground pepper
1/2 teaspoon onion powder
DIRECTIONS:
In a large bowl, whisk together soy sauce, balsamic vinegar, brown sugar, honey, garlic, Sriracha, ginger powder, pepper and onion powder.
Place wings into a slow cooker. Stir in soy sauce mixture and gently toss to combine. Cover and cook on low heat for 3-4 hours or high heat for 1-2 hours.
In a small bowl, whisk together cornstarch and 2 tablespoons water. Stir in mixture into the slow cooker. Cover and cook on high heat for an additional 10-15 minutes, or until the sauce has thickened.
Preheat oven to broil. Line a baking sheet with foil.
Place wings onto the prepared baking sheet and broil for 2-3 minutes, or until caramelized and slightly charred.
Serve immediately with remaining sauce, garnished with sesame seeds and cilantro, if desired.