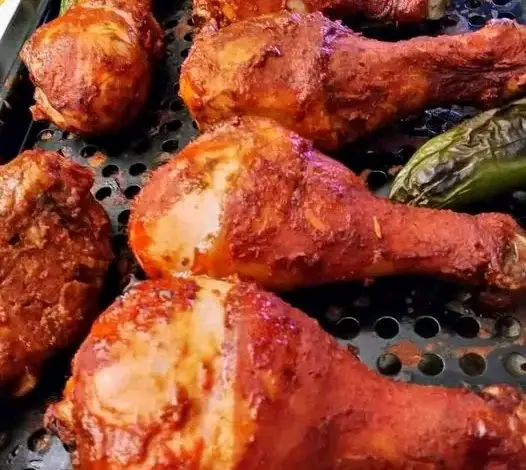 Roast chicken 🍗🐔
Ingredients
1 kilo of chicken pieces to taste.
5 garlic cloves
10 peppers
5 cloves
1 pinch of cumin
5 guajillo chiles
5 puya chiles
1/2 onion
1 stick of achiote Salt to taste
Preparation
1.-In the molcajete we crush the garlic and salt to taste, we also crush the peppers, the cloves, the pinch of cumin, we crush everything perfectly.
2.- Clean the chicken pieces well and marinate them perfectly with the mixture that we crushed.
3.-Toast the guajillo and puya chili peppers previously deveined and seedless on a griddle, when they are well toasted we put them to soak in hot water so that they soften.
4.- Blend the guajillo and puya chiles together with the 1/2 onion, the achiote and salt to taste, blend well and strain over our chicken pieces.
5.- We marinate our chicken pieces well with our sauce and let it rest for a couple of hours.
6.- We turn on our grill and when the fire is ready we put our pieces to roast and turn them so that they are completely roasted (every time we turn our chicken pieces we brush them with a kitchen brush with more marinade sauce).
7.- We accompany them to taste with rice, refried beans or some pasta etc.
NOTE : THEY CAN ALSO BE COOKED IN A PAN ON THE STOVE OR IN THE OVEN.