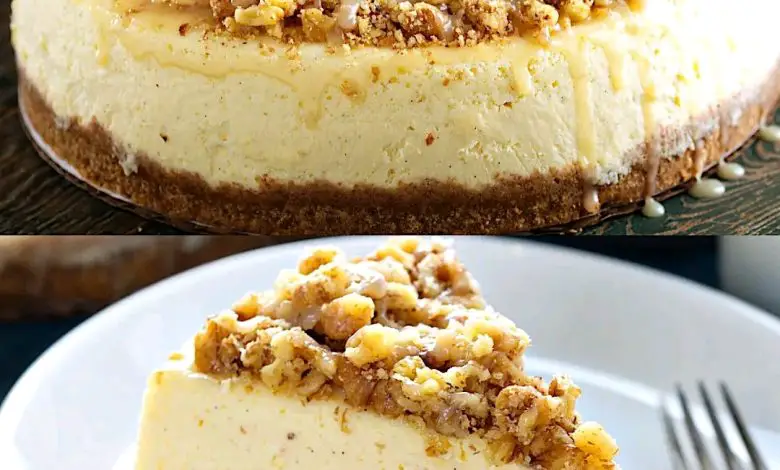 WALNUT CHEESECAKE 😋
Ingredients Cookie base:
200 grams of Maria biscuits ¼ cup melted unsalted butter ¼ cup brown sugar
1 teaspoon salt Stuffed:
3 packages of cream cheese of 190 grams each
1 cup brown sugar
3 eggs
¼ cup sour cream
2 tablespoons of flour
1 teaspoon vanilla extract
¼ teaspoon salt toppings:
4 tablespoons unsalted butter ½ cup brown sugar
½ teaspoon ground cinnamon ¼ cup sour cream 1
¾ cup chopped walnuts
½ teaspoon salt
Preparation
1. Preheat the oven to 160ºC, grease an easy-to-release cake pan with cooking spray and line the bottom of the pan with aluminum foil.
2. Beat cream cheese with brown sugar, eggs, sour cream, flour, vanilla extract, and salt; mix until everything is well incorporated.
3. Combine the melted butter with the biscuits, brown sugar and salt; Transfer this mixture to the greased mold and press to form a compact and smooth base.
4. Pour the filling on the base, cover with aluminum foil, arrange the mold on a deep oven tray and add boiling water until half the mold is covered.
5. Bake at 160ºC for an hour and a half, until the center of the cheesecake moves slightly. After this time, turn off the oven, open the door slightly and leave the cheesecake inside for an hour covered with aluminum foil.
6. Refrigerate the cheesecake in the pan for at least five hours before unmolding it.
7. Prepare the walnut topping by placing the butter and sugar in a pan, when both have melted, add the walnuts, salt, cinnamon and sour cream; cook for three minutes.
8. Remove the pan from the heat and allow to cool completely at room temperature.
9. Unmold the cheesecake carefully, serve it on a cake base and decorate the surface with the mixture of nuts.
10. Serve this delicious cheesecake with nuts and enjoy!