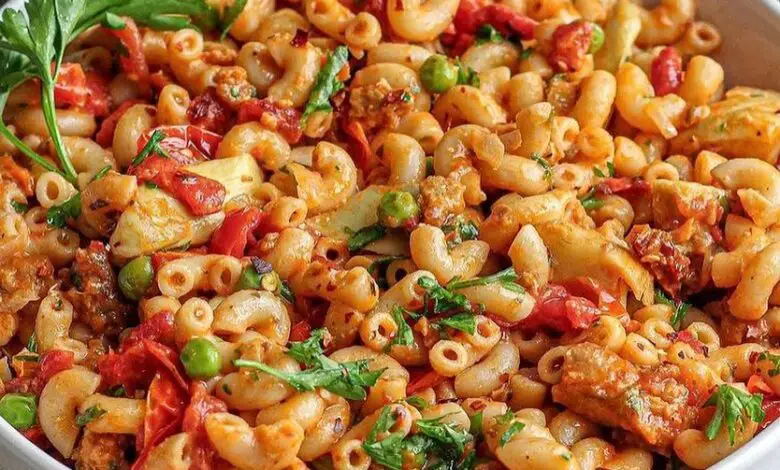 Ingredients:
Serves around 4
1 pint cherry tomatoes, halved 1/4 tsp kosher salt and pepper for roasting
1 tbsp avocado oil for roasting
2 plant-based sausages
1/2 small yellow onion, finely chopped
2 tbsp olive oil
1/2 cup (packed) marinated artichokes, drained and chopped 1/4 cup (packed) sun-dried tomatoes packed in oil, drained and finely chopped
1/3 cup roasted red peppers, chopped
1/4 cup dairy free heavy cream 1/2 cup
marinara sauce

1 tsp kosher salt
1/2 tsp garlic powder
1/2 cup cooked peas
Juice of 1/4 to 1/2 lemon, to taste
1 to 2 tbsp finely chopped fresh parsley, to taste
Red chili flakes, optional
Roast tomatoes in a baking dish, with their oil and seasoning, at 400 degrees F for 20 to 30 min, until juices are released and skins starting to wilt.
Meanwhile, cook macaroni in salted water until barely al dente. Drain, reserving 1/4 cup pasta cooking water. While those cook, sauté onions and crumbled sausages with olive oil on medium to medium low heat for 6 to 8 min, stir occasionally.
Add all remaining ingredients except parsley, including drained pasta and roasted tomatoes and their juices.
Stir well and add in a few tablespoons pasta cooking water if too dry. Cook another couple min on low heat, stirring halfway. Add parsley, serve with red chili flakes if desired.