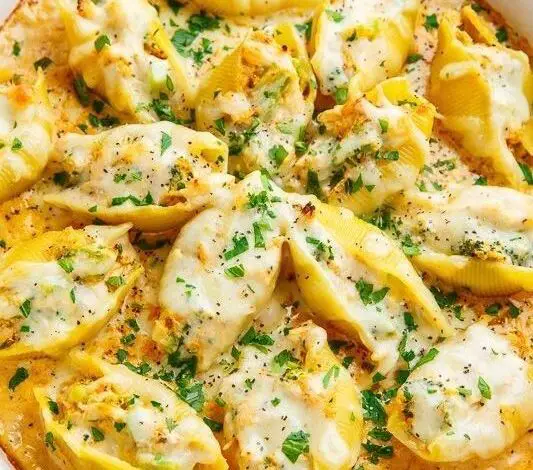 ingredients
1 pound large pasta shells (gluten-free for gluten-free)
2 tablespoons butter
2 cloves garlic, chopped
2 cups cream (and/or milk)
1/2 cup parmigiano reggiano (parmesan), grated
1/2 tablespoon cajun seasoning
1 cup ricotta
1 cup chicken, cooked and shredded or diced
1 cup broccoli, cooked and diced
2 green onions, thinly sliced
1/2 cup parmigiano reggiano (parmesan), grated
1 teaspoon lemon zest
1/2 tablespoon cajun seasoning
1 cup mozzarella, shredded
Directions
Cook the pasta shells as directed and set aside individually to cool.
Meanwhile, melt the butter in a sauce pan over medium heat, add the garlic and cook until fragrant, about a minute, before mixing in the cream, parmesan and cajun seasoning, bringing to a boil reducing the heat and simmering for 5 minutes.
Mix the ricotta, chicken, broccoli, green onions, parmesan, lemon zest and cajun seasoning.
Pour the cajun alfredo sauce into a large baking pan, stuff the shells with the chicken mixture and place in the pan before sprinkling on the mozzarella and baking in a a preheated 350F/180C oven until the cheese has melted and sides are bubbling, about 20 minutes.