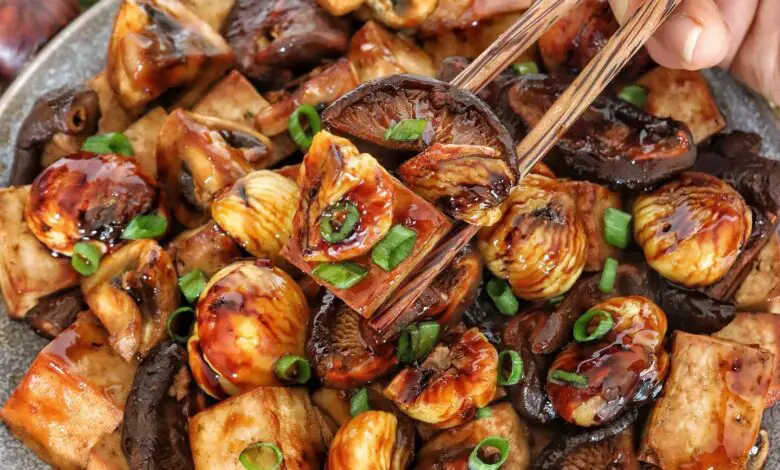 INGREDIENTS:
✅ 12 cooked chestnuts/ 1 pack of microwavable chestnuts, cooked according to packet instructions
✅ 3 cloves garlic, smashed
✅ 1 knob of ginger, sliced
✅ 6-8 dried shiitake mushrooms
✅ 400g button mushrooms
✅ 400g firm tofu
Sauce:
✅ 3 tablespoons soy sauce
✅ 1 tablespoon dark soy sauce
✅ 1 tablespoon shaoxing wine
✅ 2 tablespoons sugar
✅ 1 tablespoon cornstarch
✅ 1/4 cup veggie stock or water
To garnish/ serve:
✅ Spring onions
✅ Steamed rice
METHOD:
1. In a bowl whisk together the ingredients for the sauce
2. Soak the shiitake mushrooms in boiling water to soften, then slice into quarters
3. Slice the button mushrooms into quarters as well
4. Chop the tofu into 2cm cubes.
5. Heat the oil in a non-stick fry pan to medium-high heat. Add in garlic, ginger and the mushrooms and tofu and cook for 5 minutes to allow even caramelisation.
6. Pour in the sauce, bring to a boil and decrease the heat down to a simmer Toss the meatballs through the sauce to coat.
7. Place a lid on the work and cook for a further 15 minutes until the mushrooms are all soft & tofu has soaked up all the braising sauce.
8. Garnish with spring onions and serve with steamed rice
Omg it's sooo goood! Enjoy guys! Let me know if you try it!