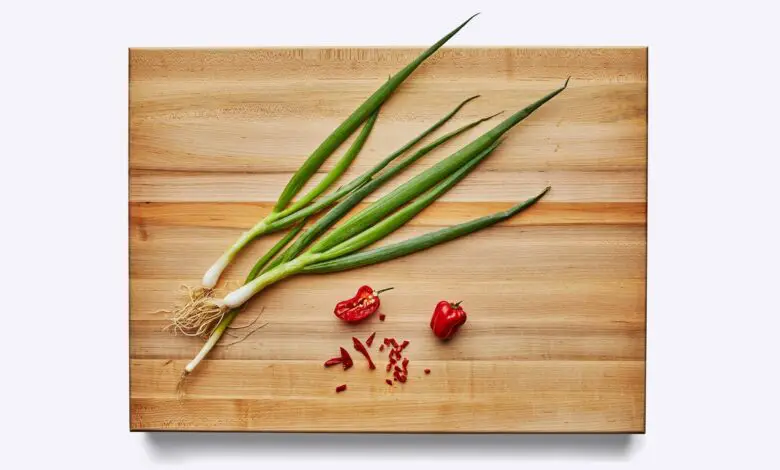 The season of endless chopping has arrived. A good cutting board is your winter workhorse for prepping custardy roasted sweet potatoes, cheesy butternut squash bakes, and vibrant winter salads. Along with a fresh haul of stubborn-skinned root vegetables comes a series of pressing questions: What types of cutting boards are there? What are the best cutting boards? How many of each do I need? And, of supreme importance, what should I do with that frosted glass board Great Aunt Mabel gifted me 35 holidays ago?
Whether you're adding to your current chopping board collection or just looking to replace a warped old thing, you'll need to know which boards are the most durable, gentlest on your knives, and pretty enough to adorn your countertop. To get you through the coming months of cold-weather meal prep, we tapped the pros—executive chef Suzanne Cupps, who chops a helluva lot of veggies over at 232 Bleecker, along with test kitchen director Chris Morocco and chef Andy Baraghani. The experts all agree: The best cutting boards are made from wood, rubber, or plastic. Here's how they compare.
The Best Wooden Cutting Boards
As a cutting board material, wood is soft enough to protect your chef's knife but still hard enough for smooth cuts, making it perfect for prepping everything except raw meat, Morocco says. (Though you can do that too, if you're willing to give them a thorough, soapy hand wash afterwards.) The best wood cutting board, according to Baraghani, is made of maple or walnut, because those are the softest and most beautiful. But we've outlined a range of others—like the best bamboo board—that come with their own set of perks.  
Most wood boards tend to "heal" themselves (i.e., they close up those cut lines after use), which prevents germ-harboring grooves from forming and keeps them in good shape for longer. On the flip side, wood is also the most absorbent board material, which means it tends to retain odors and stains. Cleaning and caring for wooden cutting boards requires a bit more work than plastic and rubber. To keep yours in tip-top shape, you should wash and dry both sides evenly so it doesn't warp and slick the surface with mineral oil or beeswax every other week. 
This Five Two Double-Sided Bamboo Cutting Board is a great all-rounder. It's lightweight and pretty enough to serve up your favorite charcuterie platter. It's also a reversible board, with one side that's a flat and smooth cutting surface and the other that features a juice groove to catch liquid plus a slot to prop up your iPhone while cooking. Bamboo boards are more porous than your traditional maple wood, teak, acacia wood, and walnut wood boards. This means they take a little more elbow grease to clean but tend to be stronger than the aforementioned other types of wood.
A John Boos block is our go-to large cutting board. When you need to prep full meals fast, having ample surface area is key, and this reversible maple cutting board will be nice and gentle on your knife edges. It's an edge grain board, which means it was made with strips of wood that are arranged side-by-side and then grafted together. This technique makes the board super beautiful (all those stripes!) but not quite as resistant to cuts and scratches as end grain cutting boards (see below).
This heavy duty, high quality John Boos butcher block is a splurge that'll last you a lifetime. It does everything the sister board above does but is thicker and made using an end grain technique. A board like this is composed of short pieces of wood that are arranged vertically and then fused together. Because the ends of each piece make up the cutting surface area, your board boasts a stunning checkerboard pattern that allows your knife's edge to sink easily into the wood fibers. It's a one-two punch: Your favorite knife stays sharp, and your board heals quickly from nicks and scratches.
For a teeny, travel-friendly option, we love this adorable portable board. It's smaller than most paperback books, which means you definitely have room in the pack for it, and comes in a chic leather case to protect it from spills. No more cutting apples on rocks!
This pretty walnut cutting board from Our Place is our top pick if you chop a lot of juicy fruits. Unlike regular, flat cutting boards, one side of this handsome board slopes down into a little juice trench that's been carved into the wood. It's made of soft walnut, which is perfect for repetitive tasks—like dicing herbs—that wreak havoc on your knives. And it doubles as an ideal serving platter for showcasing a fresh fruit spread with some hunks of cheese and requisite prosciutto coils. A word of warning: For the first few uses you might notice some wood splintering. With proper care, this will settle over time.
The Best Rubber Cutting Boards
Even softer than wooden cutting boards, rubber cutting boards are most commonly used in restaurants. For all chopping tasks, including raw meat, these boards are Cupps's top pick.  "They're durable, sturdy," and easy on your knife, she says. Morocco agrees, adding that they're simpler to care for, too; they aren't usually dishwasher safe but, unlike wooden boards, they don't need to be oiled. Just wash them with mild detergent and leave them to air dry. A couple of drawbacks: They "don't have as nice a tactile feedback on a knife as wood does," he says. While they will last for many years, rubber boards also tend to be pricier and heavier than their plastic brethren.