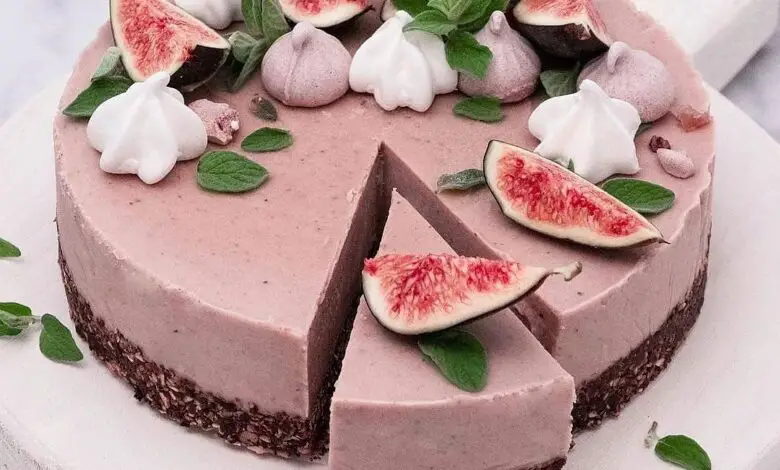 Ingredients:
Chestnut cheesecake
Ingredients are for a 16x 6cm pan ~
Crust
120g rolled oats
50g sunflower seeds
1 tbsp raw cocoa powder
1/2 tbsp flax seeds, grounded
Pinch salt
1 tsp vanilla bean paste
1 tbsp maple syrup
1 tbsp coconut oil, melted
8 dates, pitted
Place the oats and seeds in a food processor and blend until finely ground. Add the rest of the ingredients and blend until a sticky dough forms.
Press the dough into the prepared mold.
Place the mold in the refrigerator whilst making the filling.

Filing

400g chestnut purée *
3 Tbsp coconut oil, melted
1 can coconut cream, solid part only
Place all the ingredients in a saucepan and heat just until well combined. Let the mixture cool down a little before pouring it over the base.
Place in the freezer for at least 4 hours to set.
Chestnut purée -400g cooked and peeled chestnuts (make a cut on each chestnut and soak them into water for 2 hours. This will help removing the skin later.
Cook them in boiling water for about 40min, remove the skin when still warm. )
-300 ml milk of your choice -2 tsp vanilla bean paste
-90g coconut blossom sugar or brown sugar -Pinch salt -10g Cocoa powder
Place all the ingredients in a saucepan and cook on a medium heat for 20min.
The milk will be absorbed.
Add 100ml milk and blend until smooth.⠀
⠀
⠀
⠀