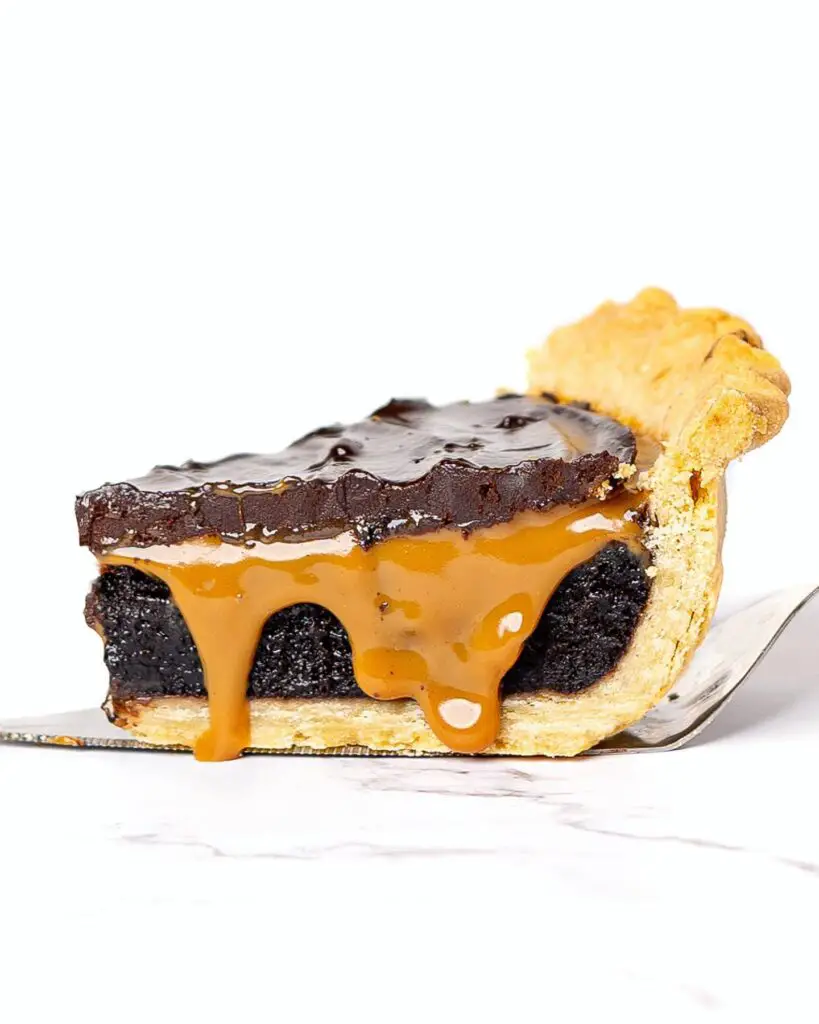 Ingredient :
Chocolate brownie pie
3 eggs
290g soft light brown sugar
1 tbsp vanilla extract
180g butter
50g plain flour
50g cocoa
½ tsp salt

Salted caramel sauce
397g can Nestle Carnation caramel
¼ tsp salt

Shortcrust pastry
10 oz plain flour
10 oz butter
½ tsbp salt
5-7 tbsp cold water

Chocolate ganache

200g dark chocolate (lower than 70%)
300 ml double cream
1 tbsp golden syrup
Method
1.Shortcrust pastry: Add the flour, butter & salt into a bowl, use an electric beater/food processor & mix until it turns into crumbs.
2.Add 5-7 tbsp cold water, add one tbsp at a time until you reach the right consistency, you might not need all. Wrap in cling film and pop in the fridge for 15 mins.
3.Roll out the pastry on a flour dusted surface, grease the pie dish and add the pastry. Line the bottom with baking paper and cover in baking beans/uncooked rice. Bake for 15 mins 180c, remove the beans/rice.
4.Make the brownie: Mix the eggs & sugar together, pour in melted butter, vanilla mix until combined. Sift the cocoa, flour & salt together, fold into the mix.
5.Pour over the pastry, bake 180c 20-25mins.
6.Once cooled, add ¼ tsbp salt to the
caramel, pour over the brownie, set in the fridge min 2 hours.
7.Warm cream in the microwave, pour over the chocolate, stir until combined & golden syrup.
8.Let the ganache cool, then spread on top of caramel layer.