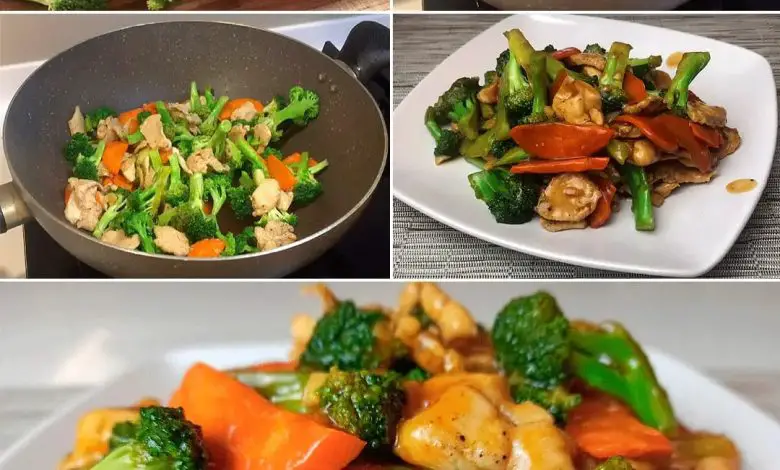 Chicken and Vegetable Stir Fry
Chicken and Vegetable Stir-Fry is a delicious culinary combination that combines pieces of tender chicken with a variety of fresh vegetables, cooked quickly in a wok over high heat. The result is a tasty and healthy dish, full of colors and textures.
Ingredients:
• 2 chicken breasts, cut into small pieces
• 2 tablespoons vegetable oil (such as sunflower or canola oil)
• 1 medium onion, cut into strips
• 2 cloves of garlic, minced
• 1 red pepper, cut into strips
• 1 green pepper, cut into strips
• 1 carrot, cut into thin slices
• 1 broccoli, separated into florets
• 1 zucchini, cut into slices
• 1/4 cup soy sauce
• 2 tablespoons oyster sauce
• 1 tablespoon grated fresh ginger
• 1 teaspoon cornstarch (optional, to thicken the sauce)
• Salt and pepper to taste
• Optional: chili or hot sauce to give it a spicy touch
Chicken and vegetable stir-fry has its roots in Asian cuisine, particularly Chinese and Thai, where ingredients are cooked in small pieces over high heat in a wok with oil and seasonings, resulting in a quick and tasty dish.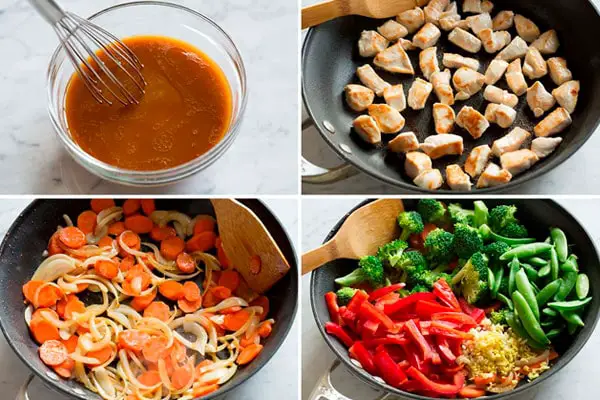 Preparation:
1. In a small bowl, whisk together the soy sauce, oyster sauce, and grated ginger. If you want a thicker sauce, you can mix a teaspoon of cornstarch with a little water and add it to the mixture. Stir well and set aside.
2. Heat a large skillet or wok over medium-high heat and add a tablespoon of vegetable oil.
3. Add the chicken pieces to the hot pan and cook until golden brown on all sides and cooked through. This usually takes about 5-7 minutes. Remove the chicken from the pan and set aside.
4. In the same pan, add the remaining tablespoon of oil. Add the chopped onion and garlic, and sauté until fragrant and the onion is translucent.
5. Add the peppers, carrot, broccoli and zucchini to the pan. Sauté for about 5-7 minutes, or until the vegetables are tender but still crisp.
6. Put the chicken back in the pan along with the vegetables.
7. Pour the prepared sauce mixture over the chicken and vegetables. Stir everything to make sure it is well coated with the sauce. Cook for a few additional minutes so everything is heated through and the flavors blend.
8. Taste and adjust the seasoning with salt and pepper, and add chili or hot sauce if desired.
9. Serve the chicken and vegetable stir fry over cooked rice, rice noodles, or even on its own. Enjoy your delicious homemade dish!
Remember that this recipe is versatile, and you can adjust the vegetables and ingredient quantities according to your preferences. Enjoy!