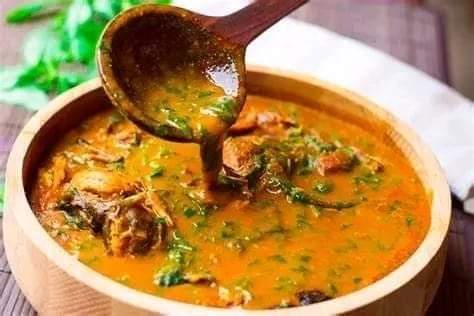 OGBONO SOUP
Ogbono soup is a popular Nigerian dish known for its rich and hearty flavors. It is made using ground ogbono seeds, which have a unique nutty and slightly slimy texture when cooked.
INGREDIENTS
* Ogbono
* Palm oil
* Dry fish
* Smoke fish
* Beef
* Salt
* Pepper ( blended)
* Crayfish (grounded)
* Seasoning cubes
* Locust beans (okpei)
* Onion (chopped) optional
* Pumpkin (ugu)
PREPARATIONS
* Soak the dry fish with hot water.
* De-bone the fish and cut into desired size.
* Wash and slice the pumpkin and keep aside.
* Cook the Meat using salt and seasoning cubes until it's soft. Once the meat is tender, pour it into a bowl.
* Set the pot on fire, pour some oil into it. Once the oil is a bit hot, pour the grounded ogbono into it and stir. Add the meat stock and allow it to simmer. You can leave the pot opened or partially closed so that the soup does not pour when it starts boiling.
* Add the onion, crayfish, pepper, locust beans and stir. Allow it to cook for 5min.
* Rinse out the dried fish and add it into the pot. Add the smoked fish as well, stir and taste for salt and seasoning cubes.
* Add the pumpkin and stir. Allow to to simmer for 60secs then bring down.
ENJOy