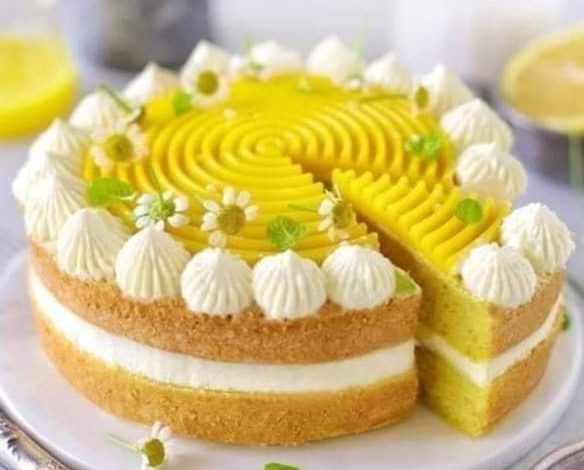 LEMON CAKE
Lemon cake is a delightful dessert that embodies a perfect balance of sweet and tangy flavors. The moist and tender cake layers are infused with the zesty brightness of fresh lemon zest and juice, creating a refreshing and invigorating taste.
INGREDIENTS
• 1 cup cake flour
• 1/2 cup all-purpose flour
• 1/2 cup cane sugar (I used ¼ cup) *
• 1 tsp baking powder
• 1/2 tsp baking soda
• 1/2 tsp salt
• 1/2 cup unsalted butter, softened
• 2 large eggs
• 2/3 cup almond milk mixed with 2 ½ tsp lemon white vinegar (Buttermilk)
• Zest of 1 lemon
• Juice from 1 lemon
• Pinch of turmeric (optional)
• 1 block cream cheese for frosting (mixed with lemon zest)
*Add more sugar if you have a super sweet tooth.
INSTRUCTIONS
1.Preheat the oven to 350°F and prep two 6″ diameter cake pans with non-stick spray.
2.Line the pans with parchment paper (cut into circles).
3.Sift and add the dry ingredients in a large mixing bowl. Stir well to combine.
4.Beat your wet ingredients (except eggs, lemon & buttermilk) in a stand mixer (or use an electric beater).
5.Mix on medium-low speed for approx. 2 mins or until the batter resembles moist sand. Add the eggs and continue beating till combined.
6.Stop and scrape the bowl with a spatula after adding each egg.
7.Pour the buttermilk, fresh lemon zest, and lemon juice. Mix on medium-high speed for 1-1 ½ minute.
8.Divide the batter equally between both pans.
9.Bake for 20-25 minutes (or until it passes the toothpick test)
10.Let your cake cool completely.
11.Assemble it by placing a layer upside-down on a serving plate. Frost the cake and then place the second layer.