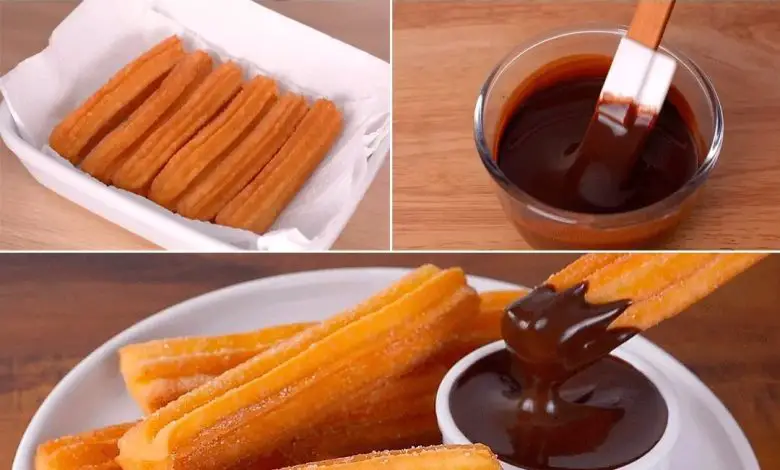 Homemade Churros
Homemade churros are delicious and popular in many cultures. Prepared with a simple dough of flour, water and salt, they are fried until they obtain a texture that is crispy on the outside and soft on the inside. They are ideal to accompany with hot chocolate or sprinkled with sugar and cinnamon.
Ingredients:
• 1 cup (240 ml) of water
• 2 tablespoons of sugar
• 1/2 teaspoon salt
• 2 tablespoons of vegetable oil (can be corn, canola or sunflower)
• 1 cup (125 g) wheat flour
• Vegetable oil for frying
• Additional sugar for sprinkling
Preparing homemade churros is a delicious culinary adventure. Gather flour, water and salt for a dough, then fry it into golden churros and sprinkle with sugar.
Preparation:
1. In a medium saucepan, heat the water, sugar, salt, and 2 tablespoons of vegetable oil. Bring the mixture to a boil.
2. Once the mixture is boiling, remove the saucepan from the heat and add the wheat flour all at once. Stir quickly with a wooden spoon until the dough forms a ball and pulls away from the sides of the pan.
3. Transfer the dough to a pastry bag fitted with a large star tip. Let the dough cool for a few minutes.
4. Meanwhile, heat enough oil in a deep frying pan to fry the churros. The oil temperature should be around 180-190°C (355-375°F).
5. Squeeze the dough directly into the hot oil into long strips about 6 inches (15 cm). You can use scissors to cut the dough.
6. Fry the churros in batches, avoiding overcrowding the pan. Cook until golden brown and crispy, about 2-4 minutes per side.
7. Remove the fried churros and place them on absorbent paper to remove excess oil.
8. In a shallow dish, mix sugar with cinnamon to taste. Dip the churros in this mixture so they are evenly coated.
9. Serve the churros hot and enjoy them with hot chocolate, dulce de leche or simply on their own.
Ready! Now you can enjoy delicious homemade churros. Remember that cooking times may vary, so keep an eye on the churros as you fry them to ensure they are golden and crispy. Enjoy!