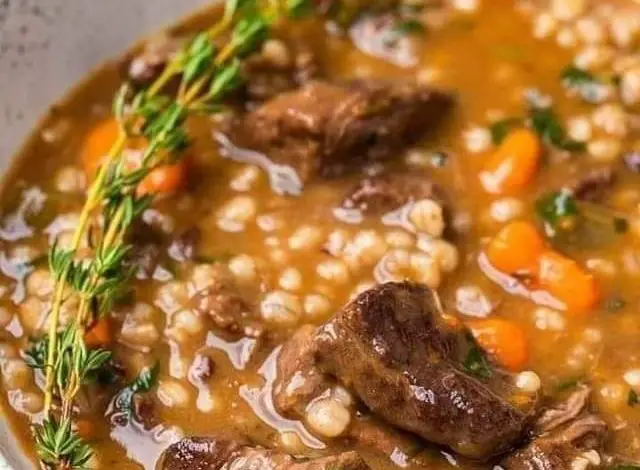 Beef and Barley Soup
Beef and barley soup is a hearty and comforting dish that combines tender pieces of beef with nutritious barley and a rich broth. This classic soup often includes vegetables like carrots, onions, and celery, which add flavor and vitamins to the mix.
Ingredients:
2 pounds beef chuck cubed
3 tablespoons olive oil
1 medium onion diced
2 ribs celery diced
4 medium carrots diced
3 cloves garlic minced
3/4 cup dry red wine
6 cups low-sodium beef broth
1 tablespoon Worcestershire sauce
3 sprigs thyme
1 cup pearl barley
salt and pepper to taste
1/4 cup parsley minced
PREPARATION:
Heat a large heavy pot to medium heat and add the olive oil. Pat the beef dry with paper towels and season with salt and pepper on all sides. Sear the beef on all sides until well browned. Work in batches if required. Do not overcrowd the pan.
Set all the beef to the side and add the onions, celery, and carrots. Saute for 5 minutes then add in the garlic and cook for 1 minute longer.
Add the red wine and turn the heat to high. Reduce by half (about 2 minutes) and scrape the bottom of the pot with a wooden spoon to remove all of the flavor bits.
Add the beef broth, Worcestershire sauce, thyme, and the beef back to the pot. Once boiling turn the heat down to a simmer. Simmer for 45 minutes with the lid partially covered.
Next, add the barley and cook at a simmer until tender (about 45-60 minutes). Taste test along the way and once the barley is tender, remove the pot from the heat.
Taste test and adjust salt and pepper to taste. If the soup is too thick, add water or extra low-sodium beef broth to thin it to personal preference. Add the parsley before serving. Enjoy!