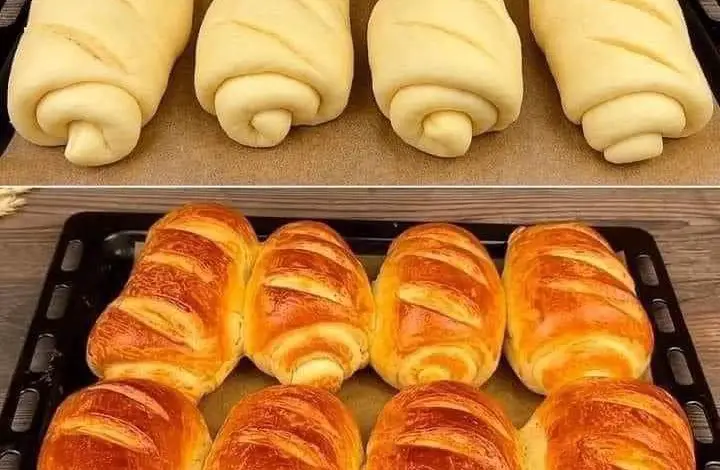 MOGIOUS MILK BREAD
Mogious Milk Bread is a delightful and fluffy bread known for its rich and tender texture. This bread is made with a generous amount of milk, which gives it a soft crumb and a slightly sweet flavor.
Ingredients :
450 g flour
2 eggs
225 ml of milk
25 g of sugar
A little salt
50g butter
25 g of fresh yeast (a small whole square)
Preparation :
1. First heat the milk for a few seconds in the microwave, add the sugar and yeast, leave to rest for 10 minutes.
2. Meanwhile we sift the flour using a sieve, add the salt and set aside until the 10 minutes have passed.
3. Once this time has passed, add the milk and yeast and the mixture will be completely diluted on this basis.
4. We beat the egg in another container and add it to the flour, mix again. You can use sticks or a blender. The rods will provide us with a slower finish, a faster mixer.
5. Warm the butter slightly in the microwave if it is hard, the ideal is to keep it at room temperature.
6. Add the butter to the dough and mix. We like the dough with our hands and we work for a few minutes.
7. No need to be in a hurry to create the perfect sleeping bread. When it's ready, make a ball with the dough and cover with a cloth.
8. We leave for 90 minutes in a place without drafts, for example inside the microwave or a cupboard.
9. During this resting time, the yeast will make the dough grow, something important for obtaining soft milk bread.
Ten. After the rising time, we divide the mass into equal portions. We make balls then we flatten them with a plate and with a knife we cut the ends to give it a rectangular shape.
11. We make three diagonal cuts on the surface of the loaves, to give them the traditional shape. In fact, we can give it any shape we like.
12. We placed the loaves on the oven tray, and covered with a cloth. We let it rest for 25 minutes before cooking.
13. This step will make the dough softer and more tender. A little before the end of the resting time, beat an egg and paint the muffins.
14 years old. We preheat the oven to 180 degrees and bake the milk buns for 10 minutes, turn off the oven and leave to rest for about 5 minutes.