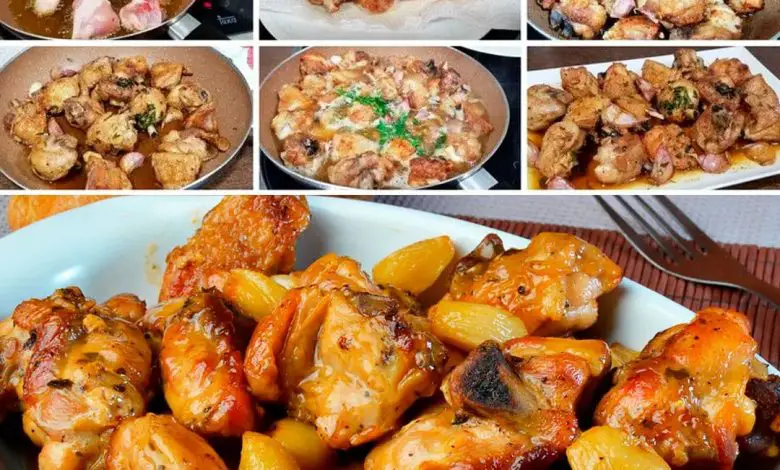 Garlic chicken
Garlic chicken is a very tasty dish with a unique flavor, since it has an exquisite aroma due to
the spices used for its preparation. It is a very delicious recipe and it won't cost you much to prepare.
Today we are going to teach you, step by step, how to prepare this delicious garlic chicken recipe. Take note of the
recommendations that we are going to give you and we guarantee that you will cook a succulent dish.
Ingredients:
• 1 large chicken
• 2 tbsp white vinegar
• 1 tbsp dried parsley
• 3 tbsp paprika powder
• 2 tbsp broken red chili
• 1 tbsp papaya puree
• 9 cloves of minced garlic
• 1/2 teaspoon ground black pepper
• 1/3 cup vegetable oil
• 1 1/2 tablespoons salt to taste
Steps
Garlic chicken can be prepared for lunch or dinner, the time does not matter, the important thing is
enjoy this dish. As we have already mentioned, you don't need to be a master chef to make
This recipe, you just have to follow the instructions and everything will be very simple.
Step 1
First, wash the chicken well.
Step 2
Next, put enough water in a container, add the vinegar and put the chicken in it. Leave it alone
rest for 20 minutes.
Step 3
Once the time has elapsed, remove the chicken from the water, let it drain and dry it.
Dry well with kitchen paper
Step 4
In a bowl, put the oil, pressed garlic, red chili, paprika powder, black pepper, parsley.
dry, the papaya paste, season with salt and mix well. Reserve.
Step 5
Spread the chili paste on all sides, carefully lift the skin and rub the chili well inside and
outside. Then cover it and put it in the refrigerator and let it rest for 3 hours.
Step 6
Once the time has passed, heat the oven and put the chicken at 220 degrees for 1 hour and 30 minutes and that's it!
ready!
After preparing this delicious garlic chicken recipe, we are sure that your guests will love it.
They will be very grateful, because it is a very tasty dish. This meal can be prepared at any time
of the day, it is economical and requires little preparation time. Now that you know how to make this recipe, you
We encourage you to do it and enjoy it with your family.