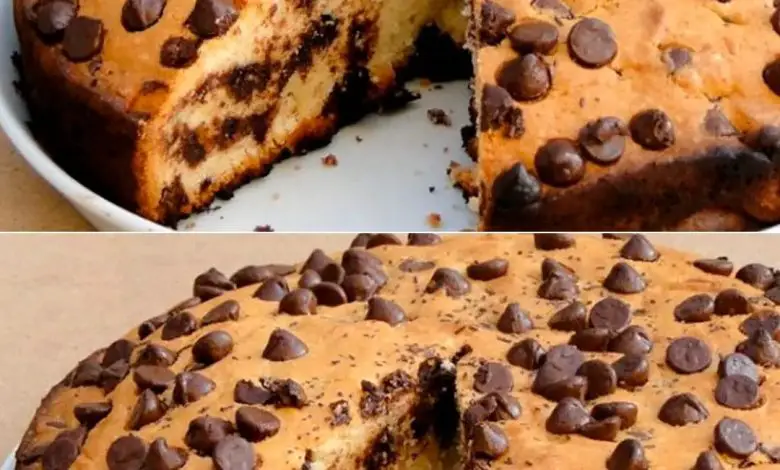 Chocolate chip cake
Chocolate Chip Cake is a delicious fluffy cake that combines the softness of a sponge cake with the indulgence of chocolate. Chocolate chips melt in every bite, creating an irresistible experience for cocoa lovers. It is a classic dessert that people of all ages like.
Ingredients:
• 2 cups of wheat flour
• 1 cup of sugar
• 1/2 cup melted butter
• 1 cup of milk
• 3 eggs
• 2 teaspoons baking powder
• 1 Teaspoon vanilla extract
• 1/2 cup semisweet chocolate chips or pieces
Be sure to preheat the oven to the right temperature and grease the pan well before mixing the ingredients for the chocolate chip cake.
Preparation:
1. Preheat your oven to 180°C (350°F) and grease a cake pan or cake pan with butter or cooking spray.
2. In a large bowl, beat the eggs until well blended. Next, add the sugar and continue beating until the mixture is smooth and a little thick.
3. Add the melted butter and vanilla essence to the egg and sugar mixture. Mix well until all the ingredients are incorporated.
4. In another bowl, sift the flour and baking powder together. Gradually add this flour mixture to the egg mixture, alternating with the milk. Start and end with the flour, mixing well after each addition.
5. Once the batter is smooth and uniform, add the chocolate chips and stir to distribute them evenly.
6. Pour the batter into the prepared pan and spread it evenly.
7. Bake in the preheated oven for approximately 30-35 minutes or until a toothpick inserted into the center of the cake comes out clean.
8. Remove the cake from the oven and let it cool in the mold for a few minutes before removing it from the mold. Then let it cool completely on a wire rack before slicing and serving.
Enjoy your delicious chocolate chip cake! You can accompany it with a glass of milk or your favorite drink.