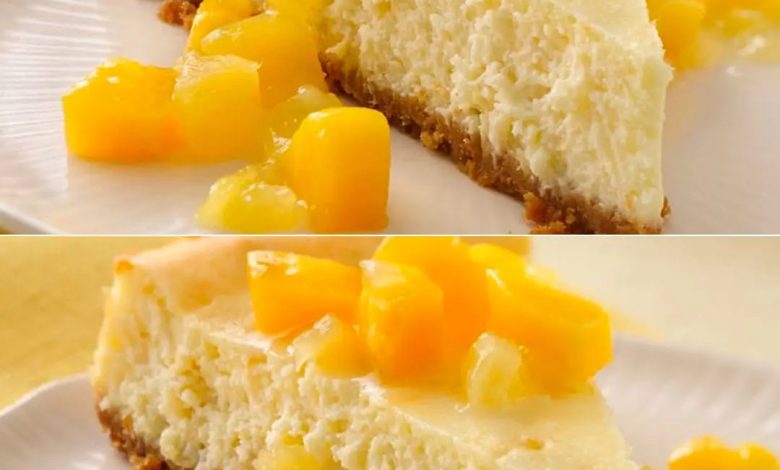 Pina colada cheesecake
Pina Colada Cheesecake is a delicious tropical twist on this classic dessert. It combines the smooth, creamy flavor of cream cheese with the sweetness of pineapple and the smoothness of coconut, creating a sweet and refreshing experience that evokes the spirit of a piña colada in every bite. It is a perfect option for those looking for an exotic touch in their dessert.
Ingredients
For the base:
• 1 1/2 cups crushed coconut crackers or graham crackers
• 1/2 cup grated coconut
• 1/2 cup melted butter
For the filling:
• 3 cups of cream cheese at room temperature
• 1 cup of sugar
• 3 eggs
• 1 cup crushed pineapple (you can use fresh or canned pineapple, drained)
• 1/2 cup coconut cream
• 1/4 cup of rum (optional)
• 1 teaspoon vanilla extract
• 1/4 cup flour
For coverage:
• 1 cup of coconut cream
• 1/4 cup powdered sugar
• 1/2 cup crushed pineapple
• 1/4 cup toasted grated coconut (to decorate)
Be sure to refrigerate it well before serving for the best texture.
Preparation
1. Preheat your oven to 160°C (325°F) and grease a 9-inch springform pan.
2. In a large bowl, mix together the crushed cookies, shredded coconut and melted butter. Press this mixture into the bottom of the pan to create the base of your cheesecake. Refrigerate while you prepare the filling.
3. In another large bowl, beat cream cheese and sugar until mixture is smooth and creamy.
4. Add the eggs one at a time, beating well after each addition. Add the crushed pineapple, coconut cream, rum (if using), vanilla extract and flour. Mix until everything is well combined.
5. Pour the filling mixture over the cookie base in the mold.
6. Bake in the preheated oven for approximately 50-60 minutes, or until the center of the cheesecake is set and just beginning to brown around the edges.
7. Remove the cheesecake from the oven and let it cool to room temperature for about 30 minutes. Then, refrigerate it for at least 4 hours or preferably overnight to firm up.
8. For the topping, mix the coconut cream and powdered sugar in a bowl until smooth. Pour this mixture over the cooled cheesecake.
9. Decorate the cheesecake with crushed pineapple and toasted grated coconut.
10. Serve and enjoy your homemade piña colada cheesecake. I hope you love it!
This cheesecake is a delicious option for any special occasion or simply to treat yourself with a tropical flavor. Enjoy!