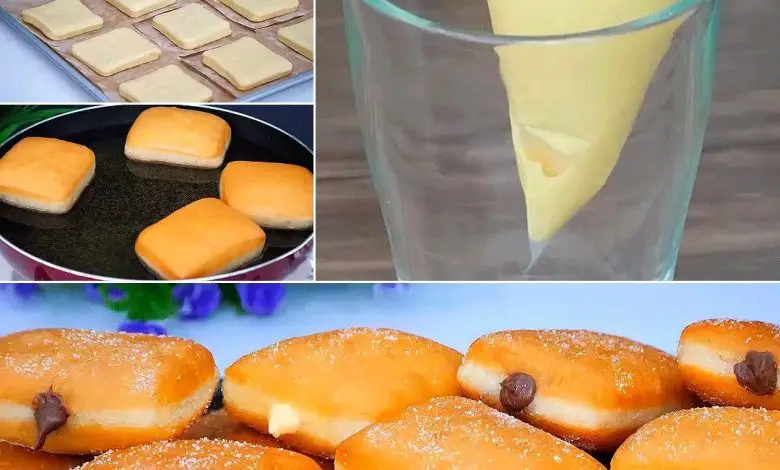 SQUARE DONUTS FILLED WITH PASTRY CREAM
Square donuts filled with pastry cream offer a unique twist on the classic round donut. The square shape provides a playful and modern aesthetic, while the luscious pastry cream filling adds a delightful contrast of textures and flavors.
Each bite brings together the buttery, fried exterior with the smooth, creamy interior, creating a satisfying indulgence for any donut enthusiast. Whether enjoyed as a breakfast treat or a dessert, these square donuts are sure to captivate the taste buds and add a touch of creativity to the world of pastries.
Ingredients:
3 egg yolks
80g of sugar
80ml of cream
240 ml of milk
2 tablespoons cornstarch
30g butter
1 teaspoon vanilla sugar
1 egg
50g of sugar
360 ml of milk
380g of flour
2 tablespoons of baking powder
1/2 teaspoon salt
30g powdered milk
40ml vegetable oil
Preparation:
1. Beat together the egg yolks, sugar, vanilla, cream, milk and starch. Cook over low heat, stirring constantly for 5 minutes. Beat in cold butter, cover, and set aside to cool completely.
2. Beat the egg with sugar, milk and oil. Add dry ingredients (flour, milk, and baking powder). Knead to make a soft, sticky dough.
3. Turn the dough out onto a floured surface, add more flour on top, and roll out to 1 inch (2.5 cm) thick.
4. Cut the dough with a square cookie cutter. Fry for 5-6 minutes, flipping halfway.
5. Let the donuts cool on a plate covered with a paper towel. Make an indentation in the center all the way and fill it with pastry cream.
6. Dust the cream puffs in powdered sugar before serving.