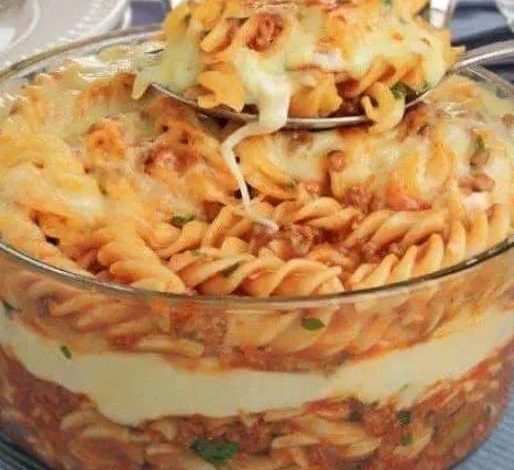 Pasta hidden noodle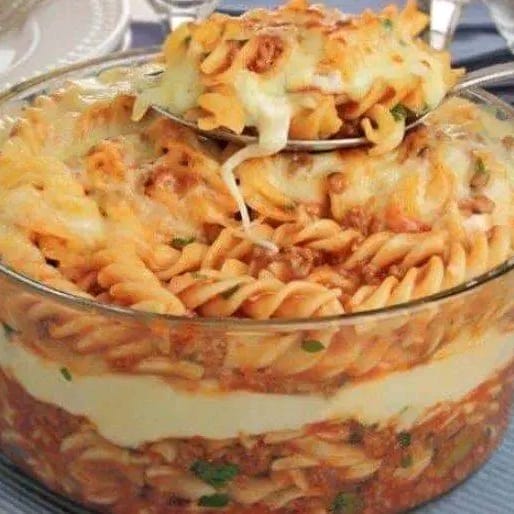 Ingredients:
– 1 package of screw noodles cooked al dente (500 g)
– 200 g grated mozzarella cheese Bolognese sauce
– 3 tablespoons (soup) of oil
– 1 CHOPPED ONION
– 2 CHOPPED GARLIC CLOTHES – 500 g ground beef
– 100 g of chopped green olives
– 3 chopped tomatoes
– 1 CAN OF TOMATO SAUCE (340 g)
– 1/3 of cup (tea) of smell
-Green chopped
– Salt and pepper of the kingdom to taste Catupiry cream:
– 1 and 1/2 cup (tea) of catupiry
– 1 and 1/2 cup (tea) of milk
– Salt to taste
Method ofPreparation:
For the sauce, heat a pot with the oil over medium heat and fry the onion, garlic and meat until golden brown.
Add the olive, tomato, tomato sauce, green smell, salt, pepper and cook for 8 MINUTES, stirring occasionally. Turn off, mix with the cooked noodles and reserve.
In a bowl, mix the ingredients for the Catupiry cream and set aside.
To assemble, in a large refractory, make a layer with half of the noodles, cover with the Catupiry cream, put the remaining noodles and sprinkle with the mozzarella.
Light in the medium oven, preheated, for 10 minutes or until seasonings. Remove and serve.
Enjoy.