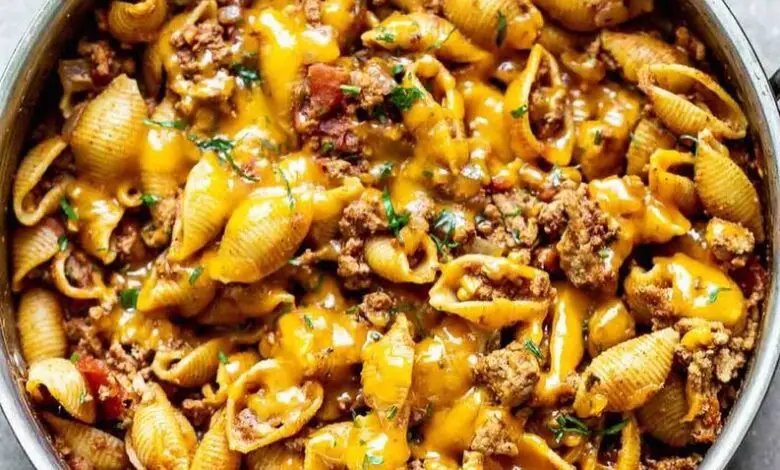 Ingredients
2 tsp. olive oil
1 lb. lean ground turkey
1/2 cup diced onion
3 garlic cloves, minced
3/4 tsp. kosher salt, divided
1 Tbsp. chili powder
2 tsp. garlic powder
2 tsp. onion powder
1 tsp. oregano
2 tsp. ground cumin
1 1/4 cups salsa
3 cups water
3 cups medium shells
1/2 cup shredded cheddar cheese
Sour cream or plain Greek yogurt for serving
Instructions
Preheat oven to 325 degrees.
Heat a large oven-proof skillet to a medium-high heat. Add olive oil. Once oil is hot, add ground turkey. Use a wooden spoon to break up the turkey. Once the turkey is mostly cooked, add onion, garlic, and 1/4 tsp. salt. Continue to saute for 3-4 minutes until garlic and onion are softened.
Add chili powder, garlic powder, onion powder, cumin, and oregano. Stir to combine and cook for 1 minute. Add salsa, water, pasta, and remaining 1/2 tsp. salt. Bring to a boil and reduce to a simmer. Cover and cook until pasta is aldente, about 10-12 minutes. If you're using whole-wheat or gluten-free pasta, you may need to add a little bit more water.
Once the pasta is aldente, stir one last time and season to taste with salt and pepper.
Sprinkle with cheese and place in the oven just until the cheese has melted, about 2 minutes.