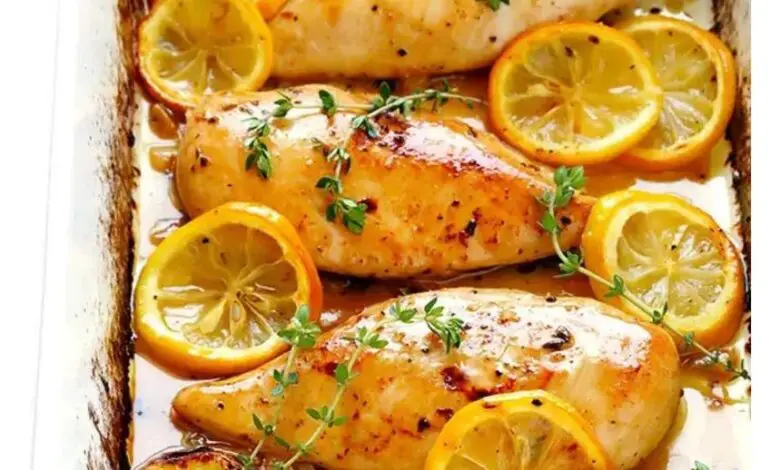 INGREDIENTS
4 boneless skinless chicken breasts, that have been pounded to even thickness and brined in saltwater (*see easy instructions below)
4 cloves garlic, peeled and minced
3 tablespoons melted butter
2 tablespoons freshly-squeezed lemon juice
1 teaspoon fresh thyme leaves
1 teaspoon Kosher salt
1/2 teaspoon freshly-cracked black pepper
optional garnishes: fresh lemon slices, extra fresh thyme sprigs
INSTRUCTIONS
*To brine your chicken breasts, simply fill a large bowl with 1 quart of warm water and 1/4 cup kosher salt.  Stir to combine until most of the salt is absorbed.  Add the chicken breasts and let them sit in the mixture to brine for 15 minutes.  Or you can also also cover the bowl and refrigerate for up to 6 hours.  Remove the chicken breasts from the brine, rinse them with cold water, then pat them dry with some paper towels.
Heat oven to 450°F.
In a medium bowl, whisk together the garlic, melted butter, lemon juice, and thyme until combined. Set aside.
Pour the melted butter mixture into a large baking dish, and place the chicken breasts on top of it in an even layer.  Use a pastry brush to brush the butter mixture all over the chicken breasts until they are completely coated on both sides.  Then sprinkle each chicken breast evenly with a generous pinch of salt and pepper.
Then feel free to add in a few extra lemon slices to the mix to look pretty when it all bakes up. (Although disclaimer — I don't recommend eating these or laying them directly on top of the chicken breasts, since they get a little bitter the longer they cook.)
Bake for 5 minutes.  Then remove the pan from the oven and brush the chicken again thoroughly with the butter mixture.  Bake again for 5 minutes, remove and brush.  Bake again for 5-8* minutes, or until the chicken is cooked through and no longer pink. (So the chicken will bake for 15-18 minutes total. 
If you use a cooking thermometer to measure the temperature thickest part of the breast, it should be between 160-170°F.  The FDA recommends 170°F.)