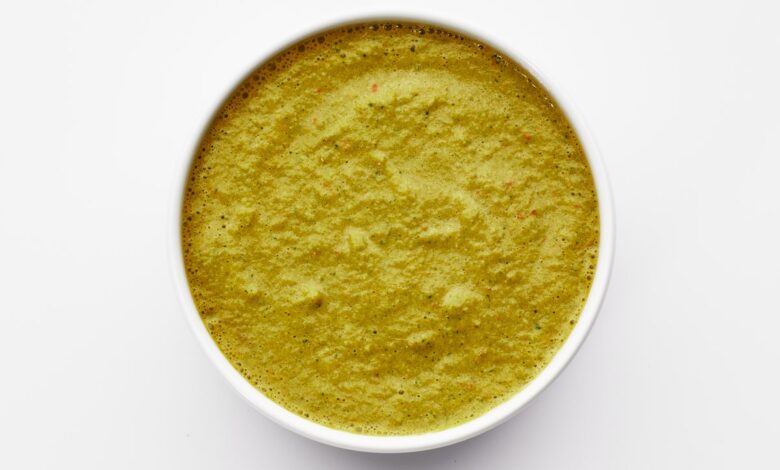 And while batches made at scale for commercial use may require a set recipe, in home kitchens, it's a different story. Chef Cybille St. Aude-Tate of Honeysuckle Projects has a standard recipe for catering, pop-ups, and selling at the store. But her home bottle knows no rules. "In my opinion, there are two philosophies surrounding epis: the one that says you buy ingredients specifically to make that standard batch and the other that says you use what you have in your fridge to clear out excess or control waste. My home batch is a hybrid of both! If there's a certain ingredient that isn't in the standard recipe or something that I have an abundance of, I'll use it!" This "making do" mentality is the foundation of Caribbean cooking.
How do I make epis?
Once you've gathered all your ingredients, you simply blend them together. Traditionally, this would be made in a pilon (mortar and pestle) but today most of the chefs agree that convenience wins. Add your ingredients into a blender or food processor all at once and whiz away until it's smooth and relatively loose.
How do I use epis?
When it comes to how to use epis, there's much more consensus around the answer: Put it in everything! 
It's a traditional marinade for fish, chicken, or beef, but the possibilities don't stop there. "I add it to soups for depth, sometimes at the start when sweating aromatics and sometimes at the end for a final flavor boost. I purée it with soaked cashews for a Haitian-style Green Goddess. I also love adding it to stewed or confited vegetables to add an extra level of savoriness," says Chef Gregory Gourdet, whose recipe for diri kole ak pwa is also founded in the seasoning base. 
Nadege adds hers to hummus and other dips, and Cybille has used it as the base for compound butters to add to steamed clams or grilled oysters, as well as in salad dressings, broths, and condiments like mustard and aioli. At Grandchamps in Bed-Stuy, Executive Chef Shawn Brockman uses epis in beer-battered fish, brunch potato hash,  and even egg dishes. Personally, I'll add epis when I'm feeling too lazy to mince a bunch of seasonings or unsure what flavor direction I'm going. A spoonful mixed into sautéed greens or incorporated into a frittata is a game-changer.
Once you've been inducted into the epis cult, go ahead and make a big old batch. It keeps at least a couple of weeks in the fridge, but I'm not ashamed to say I once found a half-empty jar lurking in the back of my fridge that was easily two months old and it was still good. If you're being responsible, separate it into portion sizes (ice cube trays are great for this) and stick it in the freezer. You can pop it into your soups and stews just like that, or let it defrost a bit before sautéeing it as a base.
One key to making epis is to understand there's no right way. Every household makes it differently. As Haiti has the largest population in the Caribbean, with a hugely diverse geographic landscape, it's no wonder that there are as many ways to prepare any given dish as there are Haitians.
Get the recipes!