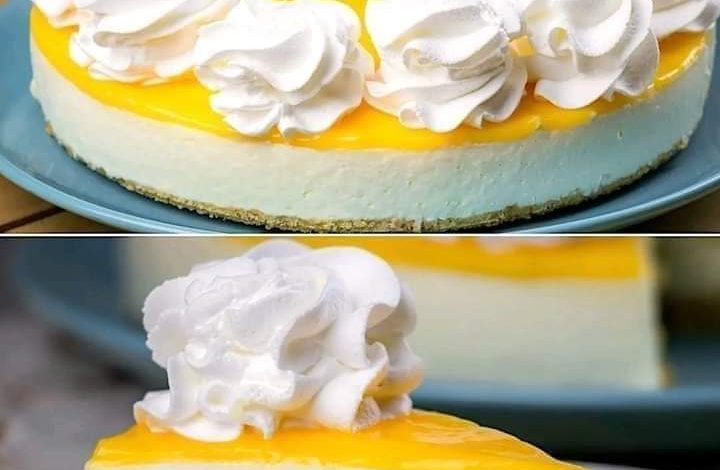 CHEESE AND LEMON CAKE WITHOUT OVEN 😋
Making a cheese and lemon cake without an oven is a delightful alternative for those who don't have access to traditional baking equipment or simply prefer a no-bake dessert. To prepare this treat, you'll need cream cheese, lemon juice, lemon zest, graham cracker crumbs, and a sweetener of your choice.
Ingredients:
20 Maria cookies
2 tablespoons unsalted butter
250 g Philadelphia cheese, cottage cheese or mascarpone
200 g of liquid cooking cream
1 packet of lemon-flavored powdered gelatin
4 tablespoons of sugar (or something else, to taste)
Preparation:
1. We crush the cookies until they look like flour. Melt the butter in the microwave. Mix the biscuit powder with the melted butter and put it in the bottom of the well-pressed mold to make the base of the cake.
2. Mix the cheese with the cream and sugar in a blender.
3. Heat a glass of water (250 ml) over the heat and when it starts to boil, add the gelatin envelope and stir very well until it is completely dissolved.
4. Remove from heat and let cool slightly.
5. Add half of the dissolved gelatin to the mixture of cheeses and cream, but reserve the other half for coverage.
6. We mix in the mixer and put that mixture on the cookie base.
7. We put in the fridge so that it begins to set and when we see that it already has body (15 min are enough) we put a few slices of lemon on top and the rest of the gelatin that we had reserved (if it has set, we put a few seconds in the microwave to blend).
8. Let our lemon cheesecake cool in the fridge for at least 3 hours before serving.