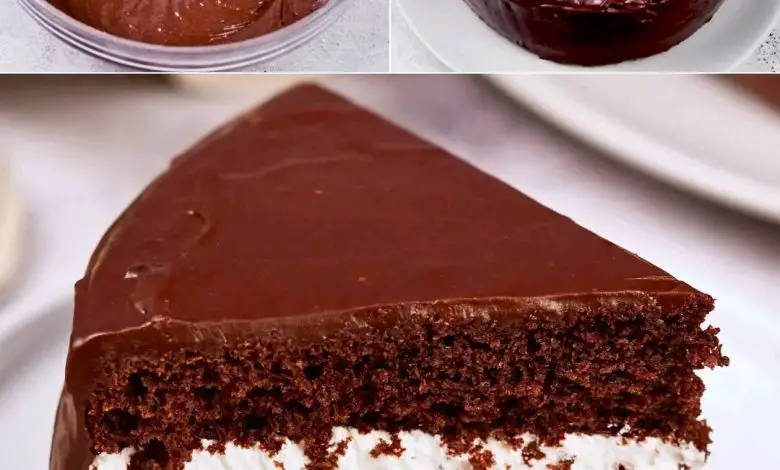 CHOCOLATE CAKE WITH WHITE CHOCOLATE CREAM
Chocolate cake with white chocolate cream is a decadent and indulgent dessert that combines the rich flavors of dark chocolate with the creamy sweetness of white chocolate. The moist and tender chocolate cake layers are perfectly complemented by the smooth and velvety white chocolate cream frosting.
Ingredients:
165 grams of dark baking chocolate
3 egg yolk
For the mass:
40 grams of margarine
6 eggs (heat the eggs for 5 minutes in hot water)
80 grams of wheat flour
80 grams of corn flour Maizena
150 grams of powdered sugar
10 tablespoons of dark chocolate 70% cocoa
1 teaspoon yeast
1 teaspoon almond flavoring
For the cream:
250 grams of margarine
2 eggs
2 tablespoons powdered sugar
200 grams of white chocolate
Coverage (Ganache):
150 grams of dark chocolate 70% cocoa
125 grams of margarine
Decor:
150 grams of dark chocolate for baking
Preparation:
1. First prepare the dough by beating the eggs with the sugar for 15 minutes (it should triple the volume). Sift the dry ingredients (flours, baking powder and cocoa) into a bowl. Add the dry ingredients to the eggs one tablespoon at a time and continue beating gently.
2. Melt the margarine, let it cool and add it to the mixture. Mix everything well.
3. Spread a 22 cm diameter baking mold with margarine and line it with baking paper. Pour the dough into the mold and bake for approximately 45 minutes at 170-180°C.
4. To prepare the cream, dissolve the white chocolate in a water bath.
5. Mix the margarine and sugar, add the eggs one at a time and add the melted and cooled chocolate.
6. After baking and once cooled, cut the cake in half and spread the prepared cream between the two layers. Place the cake in the refrigerator for 30 minutes.
7. To prepare the ganache, melt the chocolate and margarine in a bain-marie and let it cool. Using a knife or spatula, spread the ganache over the cake.